Thank you for considering the Wholesale Suite extensions for WooCommerce and welcome to our web designer friendly introduction.
We put together this guide for agencies and freelancers such as yourself that are helping a client build a WooCommerce based store that requires a wholesale component.
Our hope is that this guide will give you the 10,000 foot view of our plugins including what they are specifically used for, when to use them, and how to use them. We also hope this will give you the knowledge and confidence to suggest this solution to your clients as the right solution for them.
The Wholesale Suite Components
Wholesale Suite is made up of three distinct parts that control different aspects of the overall wholesale solution.
This is designed so that your client can solve the 3 major pain points with selling to wholesale customers in WooCommerce:
Adding add wholesale pricing to products
Streamlining the ordering process
Registering & managing wholesale level customers
Depending on the level of sophistication of the solution you are giving your client, they may need just one of the plugins, some of the plugins or your client might benefit from all three of the plugins in the suite.
The plugins in our suite can be used separately or together. If used together the result is a very powerful and comprehensive solution for wholesaling in WooCommerce.
1. Wholesale Pricing Control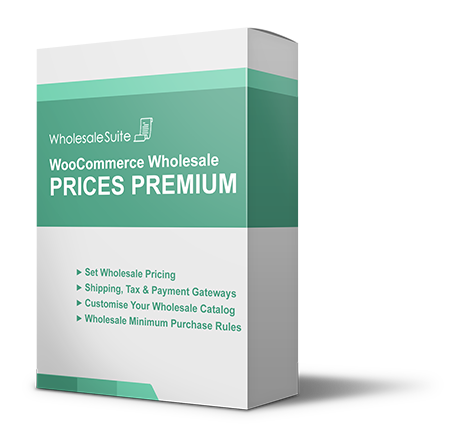 Wholesale pricing for your products in WooCommerce are controlled via two extensions.
The first, WooCommerce Wholesale Prices, is a free extension found on WordPress.org. This provides a single method of pricing control by adding a new field alongside the Regular Price fields that is shown only to users with the "Wholesale Customer" user role.
This new role is added to the system with the free Wholesale Prices plugin and any users that require wholesale pricing access can be given this new user role to enable wholesale pricing when they are logged in.
The second extension, WooCommerce Wholesale Prices Premium, adds a whole host of additional features centred around pricing, additional wholesale role levels, minimum order requirements, shipping gateway and payment gateway mapping, tax control, integrations with other 3rd party extensions, and much much more.
For a full rundown of the features of both the free plugin and the Premium pricing plugin please see the product page.
2. Ordering Experience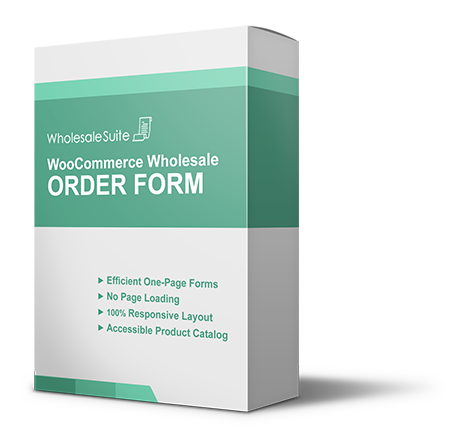 Providing an amazing ordering experience for a wholesale customer can do wonders for customer retention and overall customer happiness.
The difference between regular customers and wholesale customers is the latter are often already familiar with the store's products. This means forcing them to navigate the standard category and product pages can be very time-consuming and frustrating.
WooCommerce Wholesale Order Form was designed specifically to alleviate this issue giving wholesale customers an ordering experience that is optimized to the task.
The order form allows ordering of Simple as well as Variable products. Multiple attribute variations are combined into a single dropdown selector which reduces the number of clicks required to order a variation.
You can alter the product and category visibility to users of the form via the settings or even via the order form shortcode options.
Order Form also integrates well with many other plugins such as Product Add-ons.
3. User Management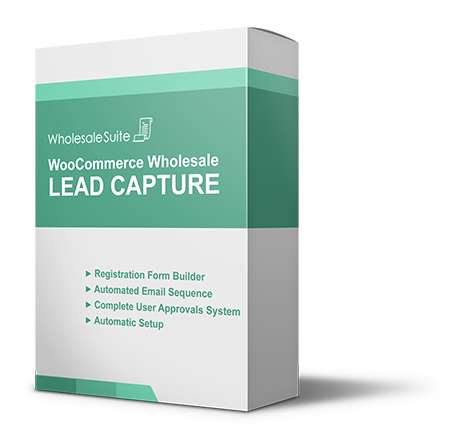 Once your client gets past the first few wholesale customers on their system the burden of managing so many users and recruiting new wholesale customers becomes more obvious.
We built the WooCommerce Wholesale Lead Capture extension to ease the amount of hands-on management that is required.
It provides a customisable wholesale registration form, a wholesale login page, and also the ability to moderate customers.
You can also have new wholesale customers requiring manual approval or you can have them auto-approved.
New customers are then assigned the proper wholesale customer role once their account is approved, reducing the number of steps your client needs to do in order to manage new wholesale customers.
A number of emails are fired during the sequence to keep customers informed of the status of their account and the wording and design of these emails are customisable as well.
Agency Bundle
If your client requires all three solutions, we have a bundle available which will save you significant money compared to purchasing all of the plugins separately.
Click here for more information about the Wholesale Suite Bundle.
Agency Level License Details
There are two options for agencies/freelancers purchasing Wholesale Suite.
If you do plan to continue working with the client and supporting them for the future, you can purchase one Agency level license (we encourage you to go for the bundle) which will allow you to use the plugins on multiple client websites.
This has a 12-month renewal period and you can control who is activated on your license. Only you will be able to claim support for the plugins on behalf of the client.
The second option is to have the client purchase the plugin for themselves as a Single Site license. This means that the customer will be able to claim support themselves which might be a good option if you aren't sure you will be working with the customer long term after your project concludes.
Support Team Access
All support is handled via our email ticketing system.
Email support is available 24/7 and our team of dedicated support engineers are trained on our products to answer common queries quickly and efficiently.
If your issue requires further investigation or development team assistance one of our friendly testers or developers will help you personally.
Common Questions
What is your refund policy?
14 days. Simply email our friendly support crew and if they can't get you up and running we're happy to refund your purchase. See here for more details.
Does your plugin do [insert feature here]?
Probably! Our suite is the most feature packed on the market. Please click on "see all features" above on each plugin on the Bundle page for a detailed rundown of all included features.
When do I get my plugins?
The plugins are delivered immediately after payment via email and links on the order received screen.
Do you have a demo?
Yes! We have a full demo site, please see here.
Other Questions
Have another question that isn't answered here? Please reach out to our friendly support crew.