The Full Wholesale Suite Bundle
Buy all three of our WooCommerce wholesale plugins as a bundle and save.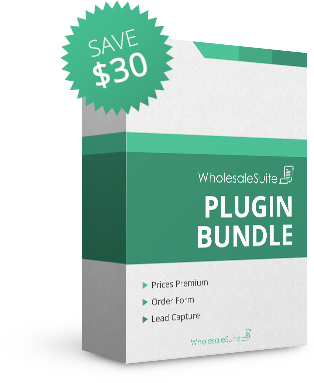 Wholesale Suite is a collection of WooCommerce extensions that solve the three big problems you face when wholesaling in WooCommerce:
1. Entering wholesale prices for products without fuss
2. Providing a streamlined wholesale order form experience
3. Registering and managing wholesale level customers
Each plugin is designed to work independently, but when paired together you get the full effect of turning your WooCommerce store into a wholesale selling system.
Buy all three plugins in the bundle together and you will get $30 off.
Price: $177.00 Price: $147.00
$177.00 USD Add to cart
Wholesale Prices Premium
Forget about using custom wholesale pricing spreadsheets!
Set your wholesale prices on your existing WooCommerce store and have your wholesale customers login and order.
Wholesale Prices Premium adds exciting new functionality to your WooCommerce store including multiple pricing levels, visibility restrictions, tax and min purchase levels.
Wholesale Order Form
Ever tried to edit wholesale pricing information for your products on a spreadsheet and ensured that all your wholesale customers have the latest copy for wholesale ordering?
It's a nightmare!
Wholesale Order Form plugin gives your wholesale customers an efficient ordering form on your existing WooCommerce website.
Wholesale Lead Capture
Until now, recruiting wholesale customers has been an annoying process of back and forth emailing and manually settings users in WooCommerce with the correct permissions.
Wholesale Lead Capture will create all the necessary registration, login and wholesale signup email sequences for your site.
It comes with a full user approval system straight out of the box.
License Information
Purchasing the WooCommerce Wholesale Suite Bundle plugin allows you:
Use on unlimited websites that you own
Unlimited automatic updates via the WordPress dashboard
1 year email support
To enable automatic updates you must enter both your purchase email address and license key (provided to you upon purchase) in the Settings area under the plugin settings.
If you do not have the license key and you purchased this plugin previously and require your license key to activate updates, please contact support.
Common Questions
What is your refund policy?
14 days, no questions asked. Simply email our friendly support crew and if they can't get you up and running we're happy to refund your purchase.
Does your plugin do [insert feature here]?
Probably! Our suite is the most feature packed on the market. Please click on "see all features" above on each plugin for a detailed rundown of all included features.
When do I get my plugins?
The plugins are delivered immediately after payment via email and links on the order received screen.
Does your license include unlimited updates?
Yes, we're proud to have one of the most flexible licenses on the market. Even after the support portion of your license expires (12 months) you will still receive plugin updates.
I'm an agency, who should buy the plugins?
Ideally, your client should purchase the license as they will then be able to claim support themselves if you aren't around.
Yes! We have a full demo site, please see here.
More Questions?
Have a questions about this product? Contact us, we'd love to hear from you.