How To Restrict Wholesale Customers To Using Particular Shipping Methods
Need to restrict your wholesale customers to use specific shipping methods?
Restricting your wholesale roles to use specific Shipping Methods can be handy when you want to set up a different shipping rate for your wholesale customers compared to your regular customers.
Mapping Wholesale Roles To Shipping Zones & Methods (WooCommerce 2.6.0 onwards)
Restricting your wholesale roles to using only certain shipping methods in WooCommerce Wholesale Prices Premium is very simple.
Navigate to the Shipping settings (WooCommerce->Settings, Wholesale Prices tab, click on Shipping in the submenu) and you will see the interface below: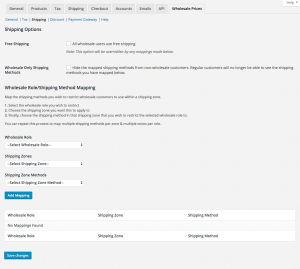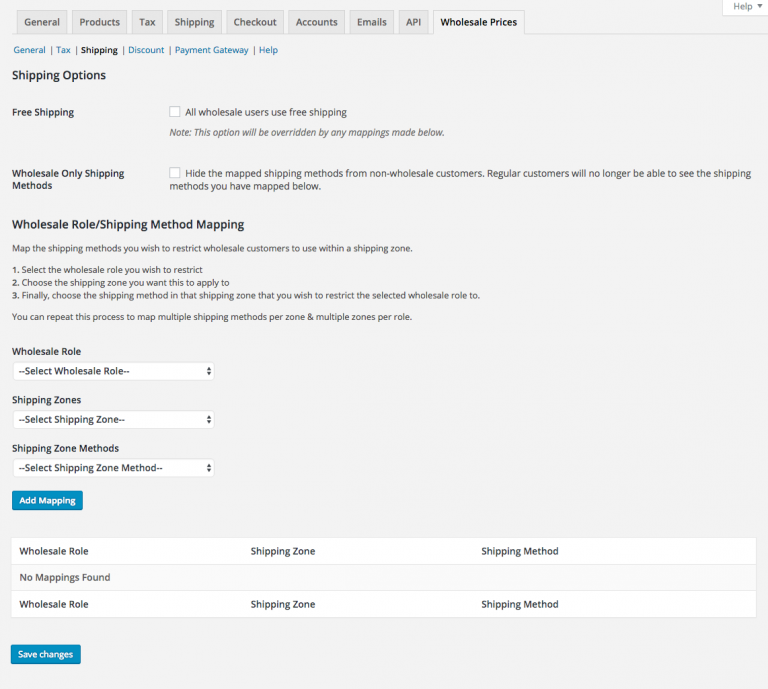 When a wholesale user is detected at the cart or checkout, the plugin refers to the mapping you set in this interface to determine which shipping options they should see.
Any Shipping Methods that you map in this interface will be the ONLY methods your mapped wholesale role will see for that Shipping Zone.
How To Add A Wholesale Role -> Shipping Method Mapping
Before adding your mappings, please create your Shipping Zones (under WooCommerce->Settings, Shipping tab), load your Shipping Methods for that zone.
Here's an example of a complete mapping setup for my zone of Australia: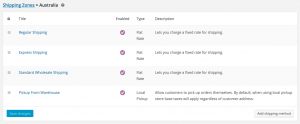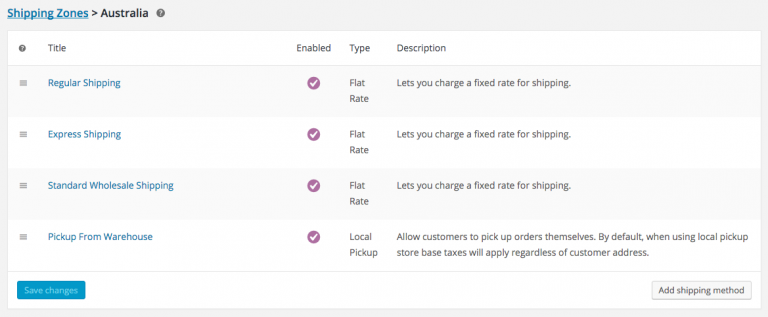 Once you have finished configuring your shipping settings, come back to the Wholesale Prices tab, Shipping settings screen and:
Select the wholesale role you wish to restrict
Choose the shipping zone you want this to apply to
Finally, choose the shipping method in that shipping zone that you wish to restrict the selected wholesale role to
You can repeat this process to map multiple shipping methods per zone & multiple zones per role.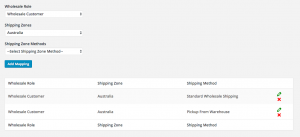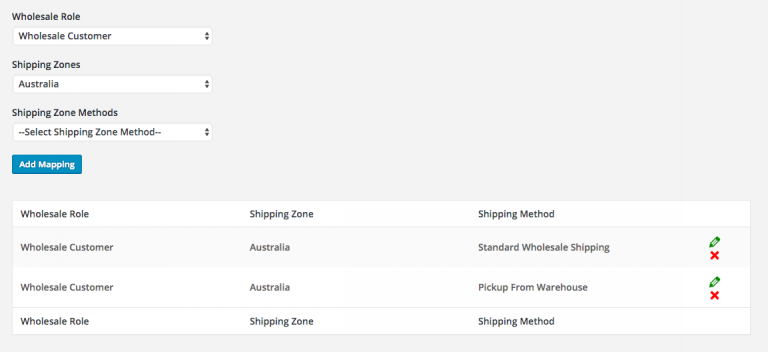 Wholesale Specific Shipping Methods
To make your mapped Shipping Methods specifically for wholesale users you will also need to check the "Wholesale Only Shipping Methods" setting which hides the mapped shipping methods from non-wholesale customers.

This means that regular customers will no longer be able to see the shipping methods you have mapped, making them exclusively for wholesale customer use.
This feature is especially handy when you want to provide shipping options that are only for wholesale customers, such as Local Pickup or more complex methods that show the true cost of shipping rather than the regular options you offer normal customers.
Questions?
Please attempt to setup your shipping mapping prior to contacting support using the instructions above.
If you find you are having trouble getting it to work or have further questions about the wholesale shipping mapping feature that aren't answered here, please contact support.
Pre-WooCommerce 2.6.0 Notice
Are you on a version prior to WooCommerce 2.6.0? If so, please click below for the pre-2.6.0 instructions as shipping  have changed significantly.
Shipping from version 2.6.0 onwards is now controlled via Shipping Zones with Shipping Methods unable to function outside of a Zone.
You can have multiple methods per zone and a Shipping Method type could have instances in a number of zones, this is quite different to pre-2.6.0 behaviour and as such our mapping feature has changed to accommodate.
[toggles class="prewc260″]
[toggle title="Click for pre-WooCommerce 2.6.0 Instructions"]
We recently added a handy little feature to WooCommerce Wholesale Prices Premium that lets you restrict your wholesale customers to using particular shipping methods and nothing else.
This is especially handy since you might want to setup a higher shipping rate for your wholesale customers than your regular customers.
Here's what the interface looks like: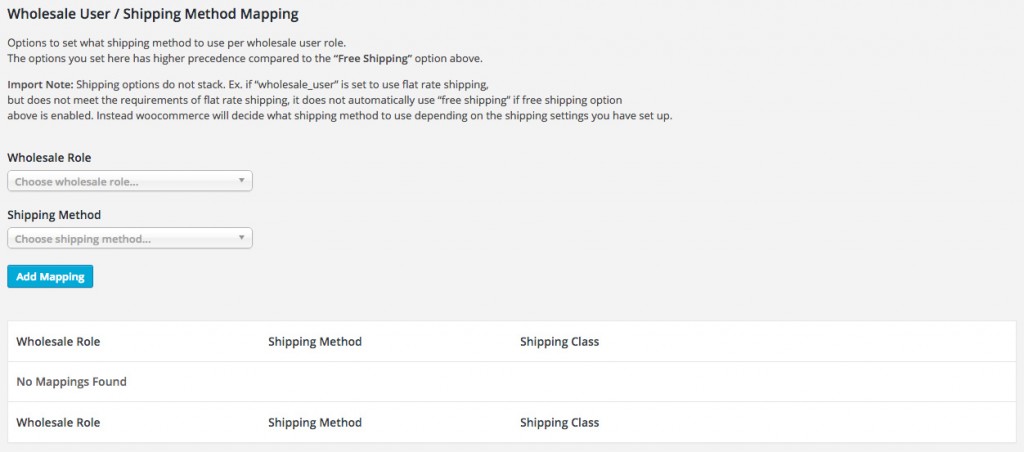 When a wholesale user is detected we refer to the mapping you set in this interface to determine which shipping options they should see at checkout.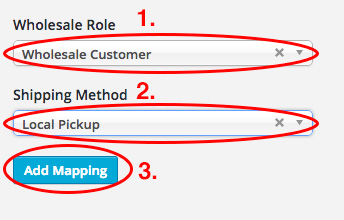 Once the mapping is added it will reflect in the bottom table where you can easily edit or delete it:

You can configure different shipping methods for each wholesale role, or if you leave it all blank your wholesale customers will just see the shipping details everyone else sees.
After you have configured your wholesale role to shipping method mappings you will have to configure the shipping method how you wish.
[/toggle]
[/toggles]