How To Let Wholesale Customers Pay Via Invoice Rather Than Regular Gateways
While our Wholesale Suite plugins themselves don't create a special way for users to get billed via an Invoice rather than having to pay (yet!), we do have a great work around suggestion that a lot of our customers have used to let their wholesale customers pay via Invoice terms rather than on the spot with credit card.
Step 1: Create the Payment Method
What you can do is rename the Cash On Delivery payment gateway and call it "Invoice". This is done under WooCommerce->Settings, Checkout tab, then edit the options for the Cash On Delivery payment gateway which is one of WooCommerce's built-in gateways.
Of course, you probably don't want to do allow all users to pay via Invoice terms, so we need to make sure that this is restricted to wholesale customers only.
By leaving the Cash On Delivery (now called "Invoice") gateway disabled this will ensure that non-wholesale customers will not be able to use it.
Step 2: Restrict the Invoice Payment Method
The second part of the puzzle is to allow wholesale customers access and you can do this with the WooCommerce Wholesale Prices Premium plugin by setting up a mapping between your wholesale role/s and the required payment gateways.
Navigate to WooCommerce->Settings
Click the Wholesale Prices tab
Click the Payment Gateways sub menu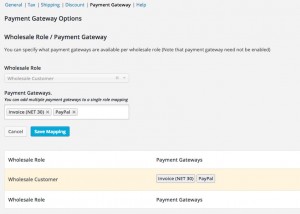 From here wholesale users can submit orders just like anyone else via the regular WooCommerce system which is very handy if you have any integrations with your accounting system as the orders get created just like everyone else.