Advanced Pricing Control Guide – Pricing With Percentage Discounts (Give Wholesale Customers A Tiered % Discount)
Yes! We have multiple options for giving your wholesale customers the pricing required.
We know that pricing products for wholesale can be tricky. That's why we have a few ways you can enter pricing. They can even be used in conjunction with one another.
Option 1: Enter a general % off discount per user role
As of Version 1.2.0 of WooCommerce Wholesale Prices Premium you can give each wholesale role a % off the retail price.
This is done by setting the general % off under the Discounts settings in the plugin's settings area.
To tweak this setting:
Login to WordPress
Goto WooCommerce->Settings
Click on the Wholesale Prices tab, then click on the Discounts sub-menu item.
Add each of your wholesale user roles here (you can add additional tiers with this guide) and define the % off the retail price they should receive.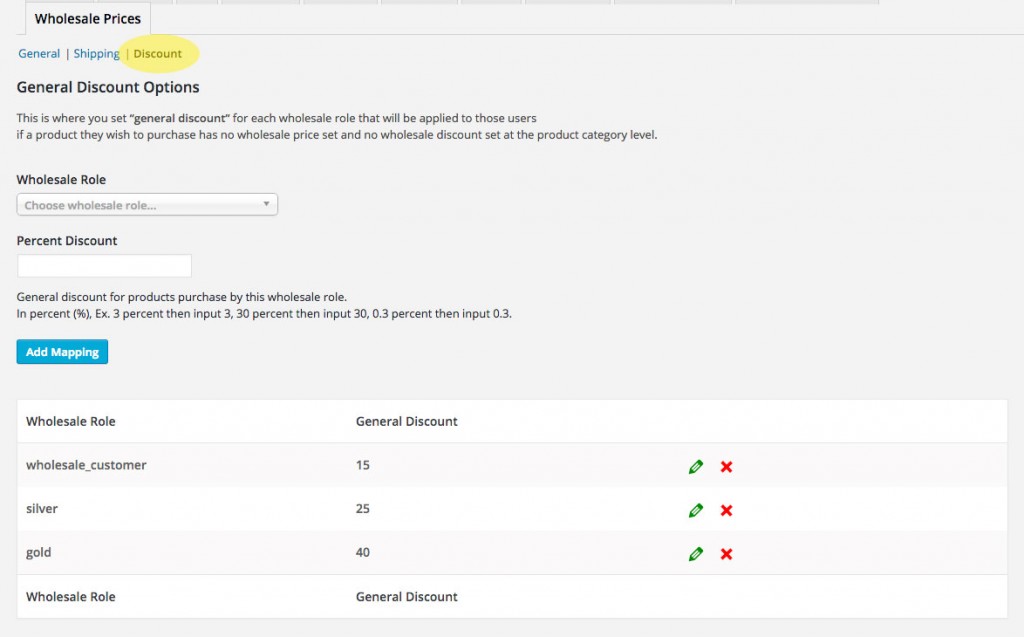 Option 2: Enter a % off for Product Categories
Working in a similar way to the General % Off, you can also define a % off per product category.
In fact, you can define both the General % Off and then override that value per product category using this method if you wish. This allows for some pretty flexible automated wholesale pricing based off percentages and you haven't even touched individual products yet.
To set a % off per product category:
Login to WordPress
Navigate to Products->Categories
Click on the category you wish to set percentage off values for
You will see an input box for each Wholesale Role (here we have three showing) where you can enter your % off retail for that particular wholesale role

Note that the percentages you set here will override the percentage you set under the general % in the Discounts settings under the plugin's global settings.
Option 3: Define prices for each product
You can also define your wholesale prices for each product individually. This is the classic way of defining your wholesale prices (and the only option in the free WooCommerce Wholesale Prices plugin).
Note that any prices defined on an individual product basis will override both the Product Category % off and the General % off and instead use the defined prices for the product.
To set a wholesale price for a product:
Goto Products->Products (or Product->Add Product if you are adding a new product)
For Simple product types you will find your price boxes for each wholesale role under the General Tab under the Product Data box.
For Variable product types you will find your price boxes for each wholesale role under each variation under the Variations tab.
Option 4: Quantity based discounts
In version 1.6.0 of Prices Premium we introduced the ability to discount individual product prices further based on the quantity ordered.
This is applied per product in much the same way as Option 3.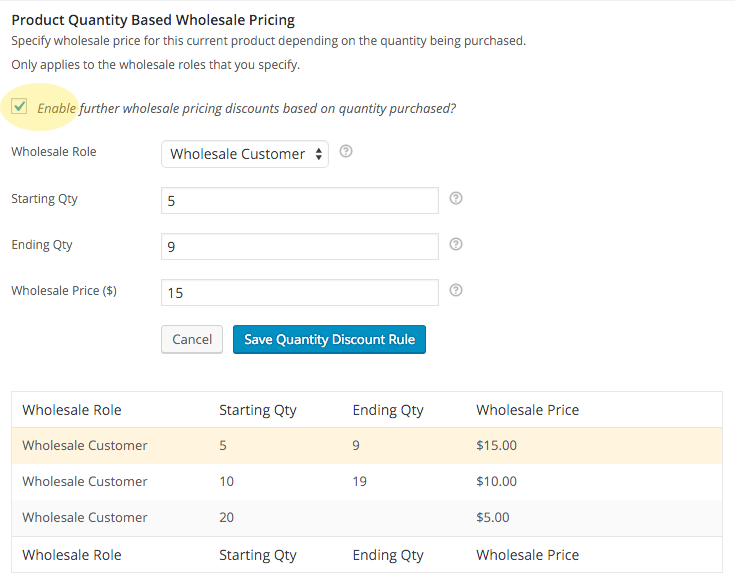 To enable Quantity Based Discounts on your wholesale pricing ensure you have filled in the Wholesale Price for your wholesale user role/s as per Option 3, then just check the "Enable further wholesale pricing discounts based on quantity purchased?" checkbox.
This will expand the interface for adding quantity discounts mapped to your individual wholesale roles.
Enter the role you wish the discount to apply for, the starting quantity, the ending quantity and the wholesale price this quantity should receive for this product.
Some notes on quantities:
The starting quantity for the first rule can be 1, but we recommend setting the price for singles (and up to the first rule's starting quantity) in the main wholesale price field for the role. Then you can start apply the starting quantity as the beginning of the first quantity price threshold (ie. 5 in the example above)
For the final rule we recommend leaving the ending quantity blank. This then be treated as "anything above the starting quantity" and is great for defining the final minimum price they can achieve.
General Note
Just another quick reminder that the pricing order of precedence is:
Individual Product Wholesale Prices
Product Category % Off
General % Off
A few scenarios:
Product doesn't have individual prices and doesn't belong to a product category that has a % off defined, but there is a general % off value defined: Product gets the General % Off pricing
Product has individual prices defined and also belongs to a product category that has a % off defined: Product gets the Individual Prices as defined in the product
Product belongs to a product category that has a % off value but doesn't have individual prices defined: Product gets the Product Category's % off pricing
These are just a few scenarios to illustrate the order of precedence and isn't meant to be an indicator of the total options.
When in doubt, follow the order of precedence to determine what pricing your products are receiving and always (always!) test with a test wholesale user to ensure everything is priced as you want it on the front end.