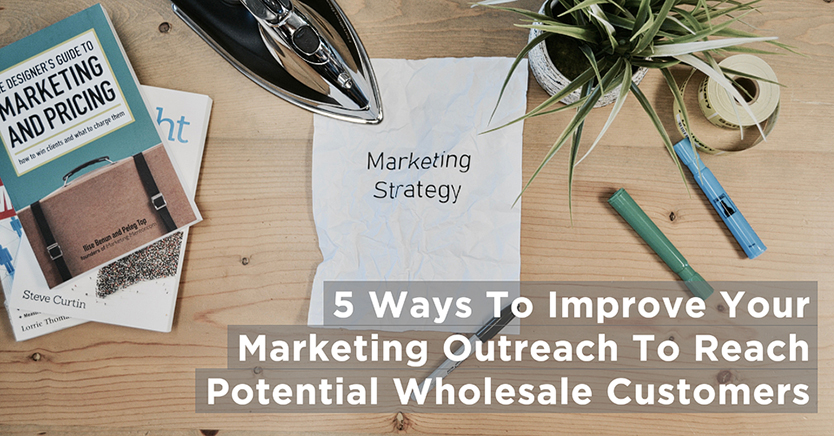 Improving the marketing outreach of your business is one of the most important steps to achieving your business goals. In this post, we will tackle how you can reach more potential wholesale customers and expand your business.
How To Reach More Wholesale Customers
1. Know your Target Audience
It is very important to define and know about your target audience. Aiming your marketing efforts to every customer is a waste of precious time. If you know where to aim your marketing outreach, you can better reach out to the right customers and make the sale. Clearly defining your target audience will lead to a comprehensive marketing strategy for your online business.
According to Paige Arnof-Fenn, Founder of Mavens and Moguls, "Attracting more customers is about listening to their needs. She added that there are many existing problems out there today that the customers are willing to pay.
She further added, "You may have core customers that you're trying to reach but it's also important to pay attention to other markets and address their needs. You also need to know who are the gatekeepers and influencers of your target audience because they will affect the decision that your audience will make."
If you haven't yet specified your target audience, read our post on how online business owners can create their target customer persona.
2. Know more about your Current Customers
Understanding your target audience is just the tip of the iceberg because understanding is different from knowing. Getting new customers is just as important as keeping your existing customers. Your online business is not really growing if you're not having repeat customers. In a business where you plan to grow or expand you need to have loyal customers, and to be able to have loyal customers you need to make them feel that you care for them.
According to Inc.com, "Doing market research means finding out who your existing customers are, their demographics and the likes. Market research can range from a very simple qualitative research to in-depth quantitative analysis. There are a lot of online survey tools that can help you, for example, SurveyMonkey or Zoomerang.
You have diverse customers coming from different backgrounds so it's unavoidable that some products and services may appeal to one audience but not for another.
Learn how to Approach Wholesale Buyers in our post.
3. Generate Sales Leads
To improve your marketing outreach, the next step would be to make sure that you are reaching out to new customers. These are some tips on how you can find new customers:
Social Media –Twitter, Facebook, Instagram, Pinterest, Youtube and the like are just a few of the social media platforms where you can advertise and can increase your target market.
Customer referrals – This is one of the most effective yet inexpensive ways to generate more customers. According to the CEO of NetCablesPlus JR Rodriguez, "There is nothing more than getting a sales lead from a happy customer." He added that a current customer is already familiar with your products and services, and can refer these products or services to family and friends who need it.
Provide useful content – Landing on the first page of search engine results is a great advantage to your business, but it is simply not enough. You need to have useful, valuable information to offer, and an easy-to-navigate online store so that your customers would be compelled to browse and purchase. Providing helpful tips and valuable content on your website can help establish trust with your clients. You can do this by publishing a blog in your online store.
Speak at trade shows, conferences, and industry events – Attending and speaking at gatherings and events is a very helpful lead generator. By doing this you're establishing your authority as an expert in your niche. You will also be able to develop new connections that will greatly boost your business.
You can also read our post on the 7 Marketing Techniques to Start Selling Wholesale.
4. Upsell your products
This is an effective marketing technique to softly persuade customers to purchase an upgraded version of your product or buy an add-on. Upselling will help you increase your sales and profits.
According to Vend, these are the strategies to successfully upsell:

a. Create a sense of urgency. Most people are impulsive buyers so you can tap into this by making limited-time offers and discounts in your online store. Build a sense of scarcity around your products that will compel the people to buy the item immediately.

b. Reward the customers for the added purchase. Give incentives or rewards to customers such as free shipping if his or her purchase reaches a minimum amount.

c. Make customers see the value or benefit that they're getting. The human mind is responsive towards images. Put more images of the product in every angle. You can also publish customer testimonials or customer reviews that lets prospective customers know how great your products are, and a lot of customers are satisfied with it.

d. It's not how what you say but how you say it. According to Aaron Azra, CEO of Offercraft, "It's not just what you offer, it's how you present it." The way you describe and market your products to your audience is an important part of your marketing tactic.
5. Provide Excellent Customer Service
In this highly-competitive business world, you need to more than sell products; you need to provide excellent customer service. By doing this, you can maintain good relationships with customers and keep them. Plus, these customers will share their delightful experience with your products and services to their family and friends. In so doing, this will help your word-of-mouth advertising which is still one of the best marketing strategies.
Here are some tips on how to provide excellent customer service to your customers:
It is important that every customer that buys your products or avail of your services would be satisfied to that they may want to come to you again. It is important to exceed their expectations and have a constant interaction with them.
One of the things that might want drive them to come back to you is to give personal attention to your customers. By doing this, they will feel that they are valued and they will respond by regularly purchasing your products and services.
Provide guarantees and ask for feedback
You need to assure your customers that even after they have purchased your products or services you still care. A guarantee is telling your customers where and how to complain and that complaining is worth their time and effort. Through this, you are asking for their feedback. If you are doing your business without knowing what the customers think about your products and services then it will be bound to fail. The clients' feedback is important. You will know what they think and what they want you to improve on your product through feedback. A positive feedback from them will surely bring more customers and good recommendations.
Keep in touch and reward them for being loyal
It's important to note that your relationship with your customer does not end after they purchase your product or services. Keeping in touch with them and keeping your relationship increases the possibility of them buying your products and services again. And by building this relationship you're making loyal customers. The more loyal customers you have there's a big possibility of an increase in sales. To keep these loyal clients you can try giving them preferable rates, providing a bonus for products and services that they have brought before and providing points on their every purchase and rewarding them if a certain number of points is reached.