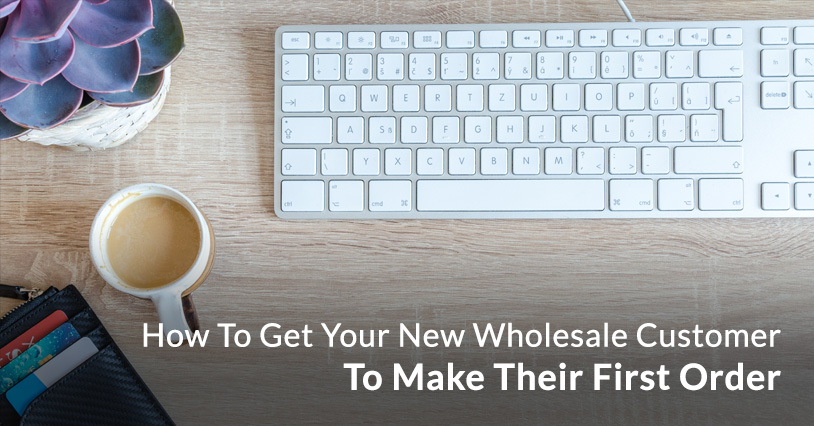 Congratulations, you have a new wholesale customer!
Now that you have someone onboard on your wholesale program, you have a new challenge ahead of you. Getting them to order for the first time.
The good news is that once you do, you're likely to continue to keep getting orders from them over and over.
The trick is getting them started and that is what this article is about.
5 Ideas To Get New Wholesale Customers To Order For The First Time
If you want to run a great wholesale program you need to look at your strategy from all sorts of angles. The only strategy we're looking to solve here is getting people to submit their first order, so the information below doesn't constitute an entire strategy for getting people to reorder.
When you think strategy, you need to put yourself into the shoes of the person you're trying to motivate.
What are their thoughts at this point? What are their needs? What are their desires?
My thoughts on this will be generalised by necessity but apply your own spin on this for your business/niche:
They're still getting to grips with using your site
They will be wondering how to submit their first order
They want to know what to do next after being accepted
They need to see an order form with wholesale pricing
They need to know about your ordering policies
They need to know about any minimums or other requirements before they place their first order
They want a quick win
They want something they can sell for a good profit
They want marketing advice on how to sell your products
They want it to be as easy as possible
Below are 5 ideas you can implement to motivate your new wholesale customer.
1. Video Tutorials/Guides
When someone enters your wholesale program for the first time they want to get their bearings as quickly as possible.
Video or video screencasts are a great way to communicate complex topics like ordering requirements, ordering interfaces, how to submit their first order, and what they should expect once it's submitted.
You can communicate all this information much quicker via video and it will reduce the time to order significantly over sending them PDF instruction manuals.
2. Lower Or Remove Minimums
Minimums certainly have their place in wholesale programs but when it comes to the specific challenge of getting a customer to order for the first time, it's a complex topic and can get in the way of the actual order.
Incentivize your new wholesale customer by lowering or, better yet, removing your usual minimum order requirements.
You can do this in WooCommerce Wholesale Prices Premium with a code snippet OR by manually setting a new order minimum on their User Profile.
Simply go to Users->All Users, search for the user and edit their profile. You will see all the override options there.
3. Incentivize Them With A Coupon
Do you know what gets people excited to order from you? A really really good deal.
Wholesalers especially are always looking for a great deal on something. The lower their costs the more money they make on a retail sale. The quicker they will need to reorder from you.
If you give your new wholesale customers a really amazing deal, something the can only ever receive with their first order, you'll be seeing an order from them in no time.
Need to restrict your coupon to just a particular wholesale role? You can do this easily with Advanced Coupons for WooCommerce.
4. Special Marketing Materials
One of the things that new wholesale customers need most is help with marketing and selling your products.
Can you give them some marketing materials they can use in their store?
If you sell to other online stores perhaps a set of pre-done email templates that will help them introduce your products to their email list.
If you sell to retail stores with a physical shop perhaps a display stand or a pull-up banner would do the trick.
Anything they can use to help promote your products is a win for you. Also, a win for them and a great value add to their first order.
5. Start An Approved Stockists Directory
Another way to motivate people is by giving them some sales love via an approved stockists directory.
People are always looking for more business. If you have a directory on your site that you could add them to, make the promise to add them after they have made their first order.
A link back to their website or even a straight listing showing their store location can be a powerful motivator, especially for smaller stores.
When To Cut People From Your Wholesale Program
If a few months have gone by and you have tried a few things to motivate that new wholesale customer to make their first purchase and you're still waiting for that order to come through then it might be time to take more drastic action.
Sometimes customers just turn out not to be a good fit, and that is ok, but you should do your duty as a business owner by identifying these people and removing them from your wholesale program.
I do recommend taking one last action before it comes to that though which is to have an honest conversation with that wholesale customer.
Simply tell them that part of being in your program and having the advantages of wholesale pricing and terms is to order regularly.
Give them a deadline to place an order and if they don't make it, remove them from your wholesale program.
It might sound harsh but you will:
Be able to devote time to wholesale customers who are fulfilling your terms and give them more attention
Cultivate an exclusive program where only the best customers get in
Stop wasting admin resources trying to get this customer to order
All around it's best for the business if they are no longer in your wholesale program.
Nurturing The Relationship
For the ones that do make it, meaning they submit their order and go on to become good wholesale customers, you should definitely spend time nurturing the relationship.
We recently wrote an article about how to conduct a catchup call with your wholesale customers which might be helpful to you.
Spend the time nurturing your wholesale relationship. You will be rewarded with bigger and more frequent orders, happier wholesale customers and a win-win relationship.