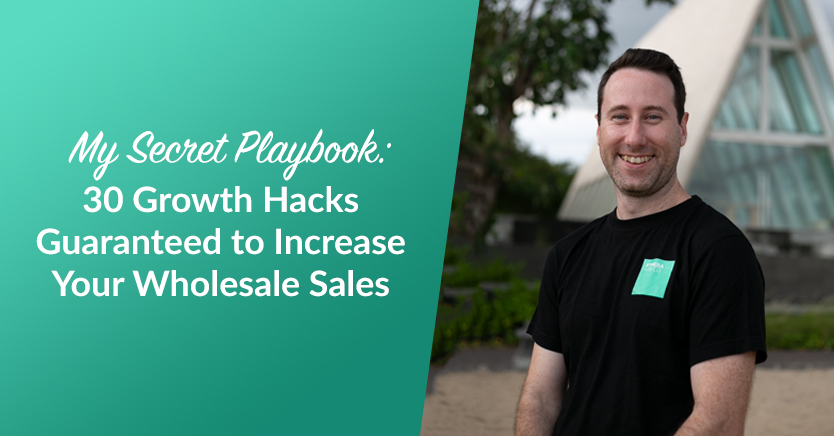 Are you looking for ways to increase wholesale sales? If so, then this post exposing my secret playbook for wholesale growth is definitely going to deliver for you. Make sure you read through all the tips.
When it comes to increasing wholesale sales there are three major levers:
Lever #1: Making more wholesale revenue
Lever #2: Getting more wholesale customers
Lever #3: Keeping wholesale customers happy
Every activity you do to improve your wholesale program comes under one of those three.
In this post, I'm giving you my secret playbook: 30 growth hacks specifically designed to increase your wholesale sales.
While you can try to absorb and implement as many of them as you can, I do recommend cherry-picking a few to start with and measuring their effect to ensure it does have a positive effect on your business.
Let's get stuck in…
Lever #1 – Making More Wholesale Revenue
Making more wholesale revenue is the first lever for increasing your wholesale sales. There are lots of great growth hacks below that you can use to get more wholesale revenue.
#1 – Move your wholesale catalog online
The first one is an obvious one. By moving your wholesale catalog online you can unlock huge efficiencies in the wholesale side of your business.
And if you run your existing retail online store on WooCommerce you are in luck because we have a guide on how to add wholesale to your existing WooCommerce store right here.
Wholesale Suite can help you automate wholesale recruitment, optimize ordering and apply pricing in the best way for your business.
#2 – Apply smart order minimums
When you look at growing revenue it's not always about getting more customers, sometimes you just need to look at how to optimize your existing revenue.
By applying order minimums (like an order minimum subtotal) you can ensure that your wholesale orders are meeting a minimum amount, but how do you do this in a smart way?
I suggest the following:
Review your past 6 months of wholesale orders
Find the AOV (Average Order Value) over the period
Set your minimum order subtotal to the AOV
#3 – Use deals to increase wholesale sales
Have you thought about running deals specifically to wholesale customers only?
In WooCommerce, it can be difficult to do this right out of the box because coupons generally apply to everyone.
Advanced Coupons is a plugin that adds more powerful features to your WooCommerce coupons including the ability to restrict coupons to certain user roles!
It's totally compatible with Wholesale Suite and this makes it the perfect partner tool for running deals to wholesale customers.
What kind of deals should you run? Try these…
BOGO (Buy One Get One) type deals (think: "Get 1 unit for free for every 10 purchased!")
Add free samples automatically to wholesale orders
Discount a category you need to move
Add a free product once a threshold has been reached
Advanced Coupons comes in a Free version and also has a Premium add-on which adds even more amazing features.
#4 – Track EVERYTHING!
Do you know your numbers? If the answer is no, then how are you suppose to measure if you're improving? Being able to measure your progress is super important.
For this I recommend two tools which are equally important:
#1 – MonsterInsights has the deepest WooCommerce and Google Analytics integration. This is 100% required because if you want to improve your conversion rates of various pages on your website you will need to track your full-funnel from landing page through to order thank you screen.
#2 – Metorik amps up your WooCommerce sales reports to 11. They say it's like your store's co-pilot for metrics. Basically what it does is suck up all of your store's sales data and spits out useful insights and reporting for you. If you want to drill into data it's only too easy. I recommend this tool consistently because it turns vanity e-commerce reporting (like what you get in default WooCommerce) into professional, actionable, data-driven reports that are actually useful for making decisions with.
#5 – Incentivize their first wholesale order
Advanced Coupons is a great tool for incentivizing wholesale customers as we saw in tip #3 but this next tip will help you take that one step further.
The best way to get wholesale customers to ordering with you consistently is to have them place an order within their first week. The sooner this happens the more chance they will become someone who orders again and again.
Create a coupon in the usual way and give a discount (eg. 10%)
Set up a Role Restriction so only wholesale customer roles are allowed to use the coupon (available in Advanced Coupons free version)
Add a Cart Condition to your coupon called "Total Customer Spend" (available in Advanced Coupons Premium) which lets you test against how much a customer has spent with you in the past. Set this to test that the customer has spent $0.
Set the Auto-Apply feature to "on" so the coupon automatically tests the conditions and applies the coupon when valid.
Following this process will give you a completely hands-free way to apply a discount to your wholesale customer's first order that is guaranteed to get them excited.
#6 – Add smart minimums to high-margin products
If you're looking at setting product minimums, I recommend you follow this very specific strategy first.
Collect data from all of your product sales over the last few months and check the quantities that your wholesale customers have been ordering in for that period.
Find the average quantity that people order all of your products in.
Focusing on the top products that have high gross margins experiment with setting product minimums that match the average order quantity for that product.
Most customers will already meet the minimum and the ones that don't will be forced to increase their spend on those products which will give you a great gross profit boost.
#7 – Charge for shipping appropriately
Passing on shipping costs is something that store owners can be conflicted about.
Personally, I believe that, for wholesale customers, you should be passing on shipping costs as appropriate. Remember that these aren't retail consumers. Shipping isn't a big sales motivator for them, it's a cost of doing business.
Shipping costs for large wholesale orders can be quite significant and as part of the deal you have with them they're already getting a great discount off the retail cost of the product. It's only fair that they pay for the shipping.
Additionally, most wholesale customers will expect to pay to ship and might find it odd if you don't charge for it or discount it.
#8 – Add a surcharge for using a credit card for wholesale orders
Wholesale orders often reach thousands of dollars, sometimes tens of thousands or more and the credit card fees alone on a transaction like that can be huge.
It's not uncommon to pass on these credit card processing fees to wholesale customers as a cost of doing business.
Eg. Stripe processing fees of 2.9% on a $10,000 order is $290. If you aren't passing on this surcharge you are out of pocket for that amount. Pass it on and you've added that back to your bottom line.
#9 – Give quantity based discounts to increase wholesale sales
Incentivizing customers by using smart product minimums as we talked about in #6 is one part of the story. The follow up to that is quantity-based discounts.
Using both a product minimum and a quantity-based discount is like a double whammy.
Set a reward for reaching the next logical quantity tier by giving a slight drop in the per-unit pricing. In WooCommerce Wholesale Prices Premium, you can do this easily with a percentage or a fixed price.
#10 – Replace your checkout with a higher converting one
The checkout page on your store is one of, if not the most, important pages on your site from a conversion optimization perspective. But creating a high converting checkout in WooCommerce often means editing templates and coding.
If you don't have those coding abilities, or you simply want to make light work of it, we recommend using FunnelKit which lets you replace your entire checkout flow with a custom, lightweight, high converting option.
They have a ton of proven checkout templates to choose from which means you can easily test different layouts.
Lever #2 – Getting More Wholesale Customers
The second lever that will help you increase wholesale sales is to recruit more wholesale customers. Getting more wholesale customers is a great way to grow fast and below we'll discuss a bunch of ways you can get more customers easily.
#11 – Create your "Ideal Wholesale Customer" profile
Do you have some highly active and profitable yet low maintenance wholesale customers already? Do you want to get more of those?
The way to do it is by creating an "ideal wholesale customer" profile.
By determining the exact characteristics of your ideal wholesale customer you can then use that as criteria to recruit more just like them.
It's not an exact science but it can increase your odds of finding more customers like your best customers.
What kinds of characteristics should you look for?
Number of employees
Annual turnover
Geographic location
Demographics served
Store type
Owner profile
#12 – Systemize your wholesale customer recruiting process
Once you have your ideal wholesale customer profile you can then work to systemize the finding, recruiting and onboarding of those customers.
It's not just about getting more wholesale customers, it's about being able to find and attract great wholesale customers consistently.
A system for this might revolve on a monthly or quarterly basis, allowing you to measure the system's success and iterate quickly.
Spend the 5 days of the month creating a list of 100 prospects to contact over the next few weeks.
Make contact with the companies (this could be via LinkedIn, email, sending them a sample package, etc).
Direct interested clients to register for the wholesale program via the wholesale lead capture form.
Analyze the companies to ensure a good fit and approve the accounts that meet the criteria.
Send the new wholesale customers a welcome package with training materials, instructions on how to place their orders and set expectations.
Measure how many wholesale customers were onboarded during the period and find any ways you can tweak the system to improve performance.
#13 – Recruit wholesale customers geographically
Another way to break down, conquer and get more quality wholesale customers is to replicate the successful partnerships you've had in another geographical location.
So if you've recruited 3 star wholesale partners in your local state, why not try the next state over or the next country over and approach the equivalently sized retailers in those areas.
There are no rules saying you have to stick to your area and expanding your influence geographically is a great way to grow.
#14 – Conduct onboarding phone calls
We've seen how conducting catch up calls can help boost your orders so what about onboarding phone calls?
There's no better way to connect with new customers than actually speaking with them either face to face or on the phone.
With retail customers, this isn't always possible but remember wholesale customers are different so don't be afraid to jump on the phone and walk people through making their first order.
As I covered in tip #5, getting them to make their first order can be the difference between someone who orders regularly and someone who doesn't order at all.
#15 – Create a 7-Star wholesale onboarding experience
This is one of my favourite ways to visualize how to improve an onboarding process. It's called creating a 7-star experience.
It works like this:
1. Write down what your current onboarding process or experience is like, from your customer's perspective, so you have a baseline
Make sure you specify exactly what it is right now, don't be tempted to improve it right now, we're just capturing the starting point. If you already have a 5-star experience that's great! Most of us though probably have a way to go.
2. Next, write down what you think a 5-star experience would be like for your onboarding process
It can help to imagine a fancy 5-star hotel. Think about the kinds of things they do for their customers to make the experience 5-star.
Take your existing experience and find ways you could make it a 5-star experience.
Here's some examples to get the creative juices flowing:
They might see a thoughtful and information-rich landing page telling them about the benefits of being a wholesale customer.
They then see a registration form that is not too long but collects all the important information they need to give.
When they register they get an email telling them it's been received and someone will get back to them within the same workday.
Once the admin approves the new wholesaler, they get an email saying they've been approved. It even includes a coupon for their first order and a link to instructions on how to make their order and get familiar with the ordering process. This helps set their mind at ease and tells them what to do next.
They click the link to login and immediately see a quick ordering interface. They're surprised at how fast it is to order what they need.
They go to the checkout and are surprised again to see that all their personal information is pre-filled out in the checkout form they apply the coupon they found in the welcome email and checkout.
3. The next step is to write down what a CRAZY 10-star experience would be like
This is where you let your imagination run completely WILD. The idea is to imagine what it would be like for royalty or the super-rich. What would be the absolutely craziest off the hook experience you could offer in your onboarding?
Some examples of how you can think outside the box:
When the customer hits the register button, they instantly get an email to confirm their submission. Then within 60 seconds, a customer onboarding specialist will call them to confirm their submission and walk them through the rest of the onboarding.
Sophisticated AI will be used to determine the approximate annual revenue of the company and will put them into a specific tier in the wholesale program suitable to their buying power.
A physical welcome package will be delivered to their place of business via delivery drone within 2 hours which will contain a commemorative certificate signed personally by the CEO, a fold-out cardboard display stands they can use in their store, some free products, ordering instructions, and more.
Lastly, let's dial it back down a bit and come back down to earth to create a 7-star experience
The idea is that you take the 5-star experience and combine it with some of the cool but doable ideas from your 10-star experience.
The things you came up with during your 10-star experience brainstorming are probably pretty nuts and off the wall, eg. it's unlikely you could get a drive to deliver their welcome package within 2 hours.
But a way to bring that back to something that is do-able you can take the idea and transform it a bit, eg. you could send them a nice welcome package via express post.
A business friend introduced me to this concept and ever since I've used it in a variety of ways to improve processes and make customer experiences better. This blog post is an example of something that came out of using this process to improve our onboarding for Wholesale Suite!
#16 – Use these advanced recruiting tactics
We've talked a lot about wholesale marketing tactics and recruiting retailers on the Wholesale Suite blog, but a while ago we wrote a post detailing some more advanced wholesale recruiting tactics.
Tactic #1: Spy on your competitors
In the post, we show you a Google hack to help you spy on your competitors.
We also suggest using a tool called SEMRush (free 30-day trial via our link) which is an SEO tool that lets you easily spy on your competitors.
Tactic #2: Identify complementary products
Using an imagination exercise, visualise what complementary products would be near yours in a retail setting.
Now use tactics like the above Google hack or SEMRush hack to scrape lists of potential retailers.
Tactic #3: Focus on geography
As we talked about in tip #12, you can use geography to grow your customer base with similar profiled companies in different geographic locations.
The above post give you a way to do that with Google Maps.
Tactic #4: Comb through trade show exhibitor lists
Actually exhibiting at trade shows can get expensive, but finding shows that your customers would be exhibiting at is not. You can scrape the list of attendees and find companies to target.
Tactic #5: LinkedIn arbitrage
In the post, we take you through how to use LinkedIn to scrape lists of people in relevant job titles at companies you want to target.
Linked in messaging is getting kind of saturated for tech (I get dozens of sales messages a day), but if you aren't in a tech related industry then you're probably still good.
#17 – Make a perfect wholesale recruitment landing page
Making the perfect wholesale registration landing page can actually be boiled down to a formula like follows:
Tell them the benefits – your page should tell people why they should join your wholesale program
Filter prospects – it should identify the right wholesale customers and eliminate those who aren't a good fit
Social proof – show examples of people who are in your wholesale program who are having success with it
Tell them what to do – the page should provide an option for wholesale registration
Set expectations – it needs to tell them what to expect next in the process
We go deep on how to create the perfect wholesale registration landing page here.
#18 – Turn your best wholesale customers into case studies
Once you have some happy wholesale customers I highly recommend capturing a case study or testimonial from them in order to increase the conversion rate of your recruitment landing page.
As humans we have the need to know:
We're not the first ones doing this
There's happiness on the other side of this
Case studies and testimonials are types of social proof and using social proof has been shown to increase the conversion rate of your landing pages dramatically.
During an interview with conversion agency ConversionXL, growth marketing expert Angie Schottmuller said of social proof:
"If quality social proof buffers notable uncertainty, get ready for some remarkable conversion impact — in some cases up to 400% improvement."

Social Proof: What It Is, Why It Works, and How to Use It
Lever #3 – Keeping Wholesale Customers Happy
The last lever to grow wholesale sales is to focus on customer happiness. Our advice when looking at your customer happiness is to walk a mile in their shoes. Meaning, try to look at your website and interfaces from their viewpoint and with their goals in mind.
#19 – Remove friction from the ordering process to increase wholesale sales
Wholesale customers are not like retail customers. When they come to your website, they have a particular agenda in mind, they want to make their order and get out again so they can get on with their day. They're not interested in browsing your store as a retail customer would.
This is why removing friction from the ordering process is so important for wholesale customers. Using a WooCommerce order form is essential for providing an interface that wholesale customers will actually want to use.
#20 – Let them checkout in their currency
For many businesses, international trade is a must. In this modern connected world, it can actually make up a large chunk of your overall volume.
Use a tool like Aelia's WooCommerce Currency Converter (which Wholesale Suite is fully integrated with) to allow your customers to view and checkout in their local currency.
Many payment gateways can handle this without problems (such as Stripe, PayPal, and Braintree) and they will transfer the money back to your home currency automatically as it is deposited in your account.
#21 – Let them browse in their language
Another similar tip is to allow your customers to browse your website in their own language.
This can add a comfort factor that is hard to measure but overall will definitely add to the happiness of your customers (which we know overall to have a positive effect).
How do you add it? You use a plugin such as WPML which is designed specifically for this sort of thing.
This will add easy language switcher widgets that transform your site into another language.
Look to provide specific translations for your major pages in the top 3 languages. You can find details about the number of people from certain countries and language locales via Google Analytics.
#22 – Work closer with your top 20% to increase wholesale sales with these high producing customers
Do you know about the 80/20 principle? There's a book by author Richard Koch which is worth reading, or you can brush up on the Pareto Principle (named after it's discoverer Vilfredo Pareto).
The idea is that 80% of the results come from 20% of the inputs.
If you plotted your wholesale customers by revenue on a graph I'd be willing to bet that 20% of them are responsible for 80% (or maybe more) of the revenue you're making with your wholesale business.
Work more closely with these people and try to find more just like them.
#23 – Create turnkey ways they can market your products
Think about turnkey ways your wholesale customers can market your products.
Could you provide a set of pre-done email templates in a sequence that they can load up and email to their lists?
Can you give them a product stand for their store that presents your products in the best way possible?
How about social media posts and banner ads? Could you deploy your graphics team to create graphics that are just for them?
Can you offer to do a custom marketing program for them for the first 30 days of stocking your products?
Thinking outside of the box and creatively about how you can differentiate your products in the retail setting your wholesale customers are presenting them with can pay huge dividends and give them the early success that will lead them to order more in the future.
#24 – Let wholesale customers pay immediately OR via invoice with terms to increase wholesale sales
Offering payment terms is something that is pretty common in wholesale transactions. Typical terms are NET30 or NET60, but might be negotiated otherwise.
With the move to online transactions for wholesale ordering you might be wondering how to do this.
The easiest and quickest way is to use an invoice payment gateway (we made a free plugin for this, click here to read how to set it up).
#25 – Create a "Wholesale Customer Perks" page
A "perks page" is a special page on your website where you give special deals or information to your wholesale customers. Since these are your most valued customers you should be rolling out the red carpet for them.
Can you arrange special deals with business partnerships? Can you provide access to special information that will give them an edge? Maybe its tips on how to grow their business.
The point is, if you have an area like this on your website you can use it to provide more value to your wholesale customers that will paint you as the hero and show them that you have their best interests at heart.
Here's how you can create a wholesale content only page using our special shortcodes.
#26 – Remind wholesale customers about upcoming events
If you haven't mapped out at least the next 12 months' worth of upcoming events that are important to the industry you are serving you missing out on some huge opportunities.
Helping your wholesale customers be aware of, and leverage, these important dates ahead of time is good for you both.
For example, if you are in an industry where retail partners do a lot of trade during mothers day and fathers day you should mark the "cut off date" for wholesale orders in your calendar and make your wholesale customers aware of it.
This has two benefits:
Indicates that they can make a lot if they do a promotion on that particular upcoming event
Gets them to order ahead of time in preparation of that promotion
If you don't want to goto the trouble of mapping ahead a whole year, try this with the next big event that your wholesale customers are likely to face.
Backtrack from the date the typical amount of time it takes for an order to be fully delivered from your warehouse, and backtrack a further 1-2 weeks from that date to give your wholesale customers advance notice.
#27 – Conduct quarterly account review calls
Are you catching up with your wholesale customers regularly over the phone?
There's no other way for you to know what their state of mind is unless you are speaking with them frequently.
Doing a regular catch up call is a great way to take the pulse of the relationship, fix any issues, and see what you can do to better work together in the future.
You'll be surprised how often a simple phone call can lead to an order.
#28 – Send surprise product samples to increase wholesale sales on new product lines
We often use samples as a recruiting tool when it comes to finding new wholesale customers. But do you also send product samples to your existing wholesale customers?
Finding ways to creatively bring their attention back to you is key to keeping the relationship alive.
Instead of just waiting for them to make an order, send them a sample of a product with a handwritten note.
#29 – Ask them what their goals are for the quarter
During your catch up calls (tip #26) I highly recommend asking the question "What are your goals for the next quarter?"
This can lead to some interesting and varied responses.
They might not have any goals defined, which gives you an opening to suggest some marketing collaboration.
Or they might have something big happening, in which case you can see how you might be able to assist, even if it's not going to benefit you directly like connecting them with a contact you know or sending a tweet to your audience about it.
#30 – Offer a free "Product Marketing Review"
If you want to stimulate sales, a free "product marketing review" is a great icebreaker and gives you a way to contribute to their success in a non-threatening way.
Create a checklist to go through on a call – best practices for marketing your products
Put the call out to your list of wholesale customers and use software like SimplyBook.me
#31 – Add live chat for wholesale customers
Our final tip is to add live chat specifically for your wholesale customers.
You can do this by using a tool like Intercom which provides a state-of-the-art live chat solution.
If you are only wanting to roll this out to wholesale customers, just show it only on wholesale specific pages to start with such as your wholesale order form page.
Key Takeaways To Increase Wholesale Sales
I know this post was long and thanks for sticking with me until the end.
The big takeaways from this article are to hit on the three big growth levers for wholesale sales:
Making more wholesale revenue
Getting more wholesale customers; and
Keeping wholesale customers happy
Experiment with the ideas in this article. You can't do them all right away, that would be impossible. But you can select 1 or 2 in each category to implement this month and test your results.
I hope you have enjoyed reading these tips as much as we have enjoyed putting them together!