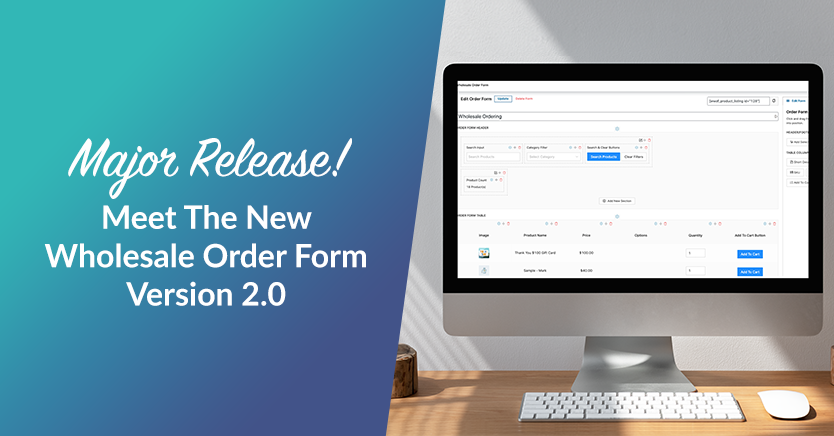 Attention Readers! This article is no longer up to date. For information on the latest version of Wholesale Order Form, please head to this article: Huge New Update! Wholesale Order Form Version 3.0 Now Live!
Looking for a strategy to increase sales volume without having to worry about missing a sale or sifting through every transaction that pops into your store? Then installing an excellent order form plugin is your best solution.
E-commerce is a complex field. Every touchpoint of your brand, including order forms, should reflect your product or business. That's why we've been working tirelessly to improve our Wholesale Suite Order Form plugin so that it can best serve your needs.
In this article, we'll discuss what's new in Version 2.0 of our Order Form plugin. In addition, we'll help you navigate these changes so that you can jump right in. Let's get into it!
Order Forms And Why You Need The Best One
An order form is a document that records business transactions between a consumer and a brand. Typically, it works this way: the consumer fills out and sends the order form to the seller. Then, the seller accepts the order form, and this document now serves as an informal/formal binding contract that governs the transaction.
Furthermore, it summarizes the customer's requirements in an organized manner that is not confusing to either party. Therefore, as a store owner, having a physical record of your transactions, whether it's a basic online template, invoice software, or a plugin, is critical if you want to keep things sorted.
In a nutshell, a dependable and easy-to-use order form system is essential for controlling sales volume and enhancing efficiency in your store. However, because online stores are more challenging to handle than brick-and-mortar shops, adding a superior order form plugin, such as Wholesale Suite's, is your best option to effectively manage your transactions and make them convenient for both parties.
Meet The New Wholesale Order Form
You see, the development of this project was definitely not a walk in the park.
We have been hard at work for almost a year to completely rewrite the plugin from the ground up and test it with our beta clients. This is to come up with a superior order form solution to produce high-quality outcomes, allowing our valued store owners to expand their operations even further.
So, before anything else, we'd like to thank first our beta users for their invaluable input and feedback during this process. We owe this massive upgrade to them.
In addition, we want to express our gratitude to the entire WooCommerce community (that includes you!) for their unwavering support. Thank you for serving as our greatest motivation since day one.
What's New In Order Form v2.0
Now that you've finally heard our piece, it's time to show it off!
Here's what we improved this time around:
1. Multiple order forms
In version 1.0, you could only have one order form; this was our most frequently requested feature!
We've enhanced the feature this time to allow you to have several order forms. Each form now has its own shortcode that can be used to push to a page.
Simply go to WooCommerce Wholesale Order Forms and click the "Add Form" button to create a new form. The page will then display a list of all the order forms you've generated.
From there, you can view the shortcodes, the location of the form, and whether it has been deployed or not. Check out our KB article if you want to know more about the shortcodes accessible on the Order Form.
2. New form builder
We've included a new form builder that allows you to personalize the appearance of your Order Forms.
From the builder, you may change the styling, move items around, and change how columns work.
You can do this after creating a form, where you will be redirected to a page where you will see three major sections:
Form Header
Order Form Table
Form Footer
You can add sections to the header and footer and choose how many columns each section should have. The elements can then be dragged into those areas.
When you wave your mouse over an element's settings button, you'll see configuration and stylistic options on the right side. Feel free to adjust & personalize!
3. Product sorting
Previously, the Wholesale Order Form's sorting was determined by a generic setting. Thanks to our new drag-and-drop builder, you may now organize the products on the order form separately.
To sort the products in Version 2.0, go to the rightmost column of your backend screen, select Wholesale, click Order Form, then 'find and edit the order form,' then Settings, and finally, set the Product Sorting.
Check out our in-depth guide here for additional information on sorting orders in Wholesale Suite Order Form.
4. Order forms may be placed everywhere
Yup – we've added some tweaks to make it more flexible! We'll be providing some really cool instructions on all the different ways you can use the new Order Form in the near future.
5. API integration
To achieve blazing fast performance, this latest version uses our Wholesale Suite API and WooCommerce's Product API.
What's Coming Real Soon In Order Form v2.0
If you think our latest features are impressive now, wait till you see what we have planned for you!
Here are some of the awesome stuff we've lined up:
Integrations! – we still have a few additional integrations to cover from our old set in 1.0 and those will be out soon. Moreover, we built the new Order Form mindfully so we can expand our list of integrated plugins more easily than ever before.
More column types – we have a big list of column types we want to add, such as product categories, product tags, review ratings, and more. Let us know what you'd like to be able to add to your forms!
Extra filtering options – we have already planned some new filtering options and will be releasing those over the coming months.
Conclusion
Wholesale Suite's Order Form is a lean and efficient way to offer instant ordering options for your WooCommerce products. We've been working on improving this plugin for the past few months in order to make it better to meet your expectations.
And today, finally, the Wholesale Suite Order Form v2.0 is now available! Here are some of the things we improved:
And while you're at it, you might as well upgrade your entire store with our Wholesale Suite Bundle. It's a comprehensive set of plugins that covers everything you'll need to optimize your WooCommerce store, from pricing to ordering to onboarding leads.
Do you have any questions? Feel free to shoot us a message or comment below!