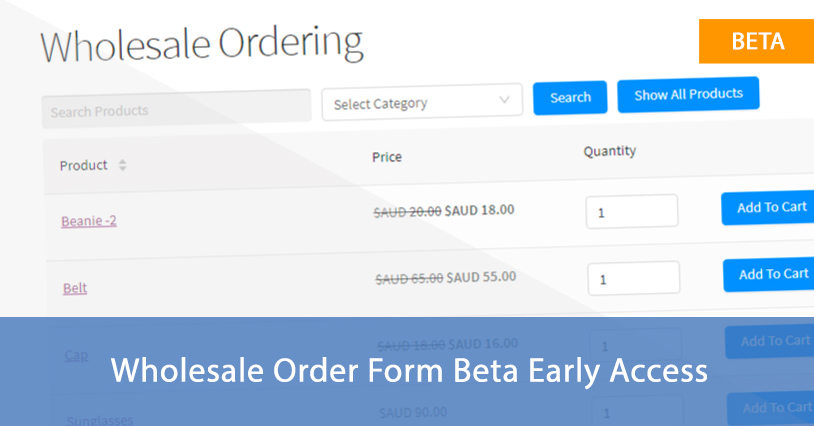 We're building a new WooCommerce Wholesale Order Form!
Late last year we kicked off a new project in Wholesale Suite to rebuild our beloved Order Form tool with some new tech that will:
Make it super-duper fast – always a good thing for your wholesale customers!
Make it more extensible so we can better integrate with some of the more difficult plugins out there – we understand that it would be great to integrate with many of these tools and this is the first step to get us there
Give you a more consistent look and feel – this will allow us to put more of that "look and feel" customization on the backend settings in the future
Today we released the first beta of this new Order Form. This post explains how to check it out and, if you wish, use it on your site.
Enabling The BETA Form
Currently, we are not recommending that you use this in a production environment.
But if your needs are simple and you want to check out what we're doing with the new form we'd love your feedback.
To enable the form you need to do a few things:
Generate a WooCommerce API key pair & load it in settings
Enable the beta access via settings
Tweak the shortcode you're using on your wholesale ordering page on your site
1. Generate WooCommerce API Key
The new form relies on the WooCommerce API. In order to use the API, the order form will need its own API access key.
You can generate one in a few seconds by doing this:
Navigate to the Advanced settings tab, then click on REST API in the sub menu. You should see a page like this (or if you've generated keys before you'll see a list of keys).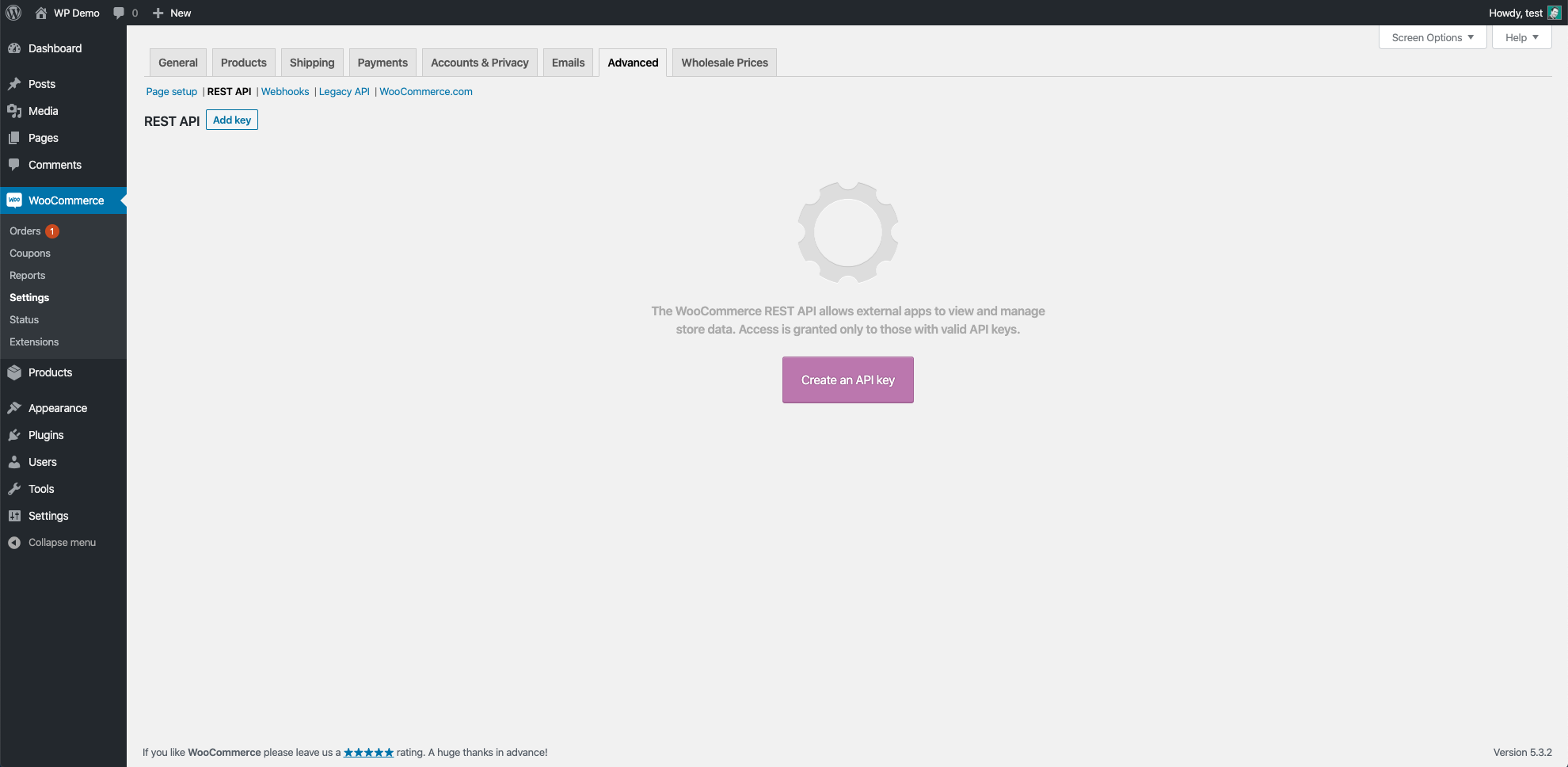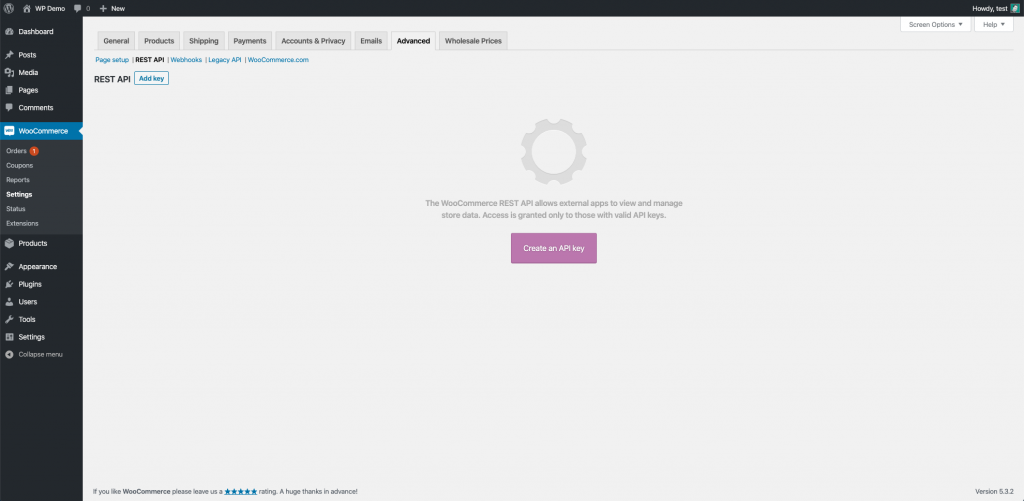 Next, click Create a new key button and you'll see a screen like this: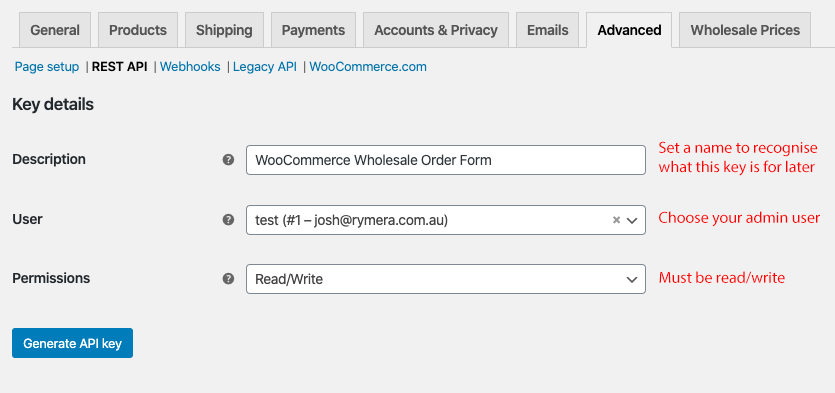 Give the key a recognizable name. Select your admin user for the user. Make sure the permissions are set to Read/Write.
Finally, you need to give WooCommerce Wholesale Order Form the keys so it can use them to access the API.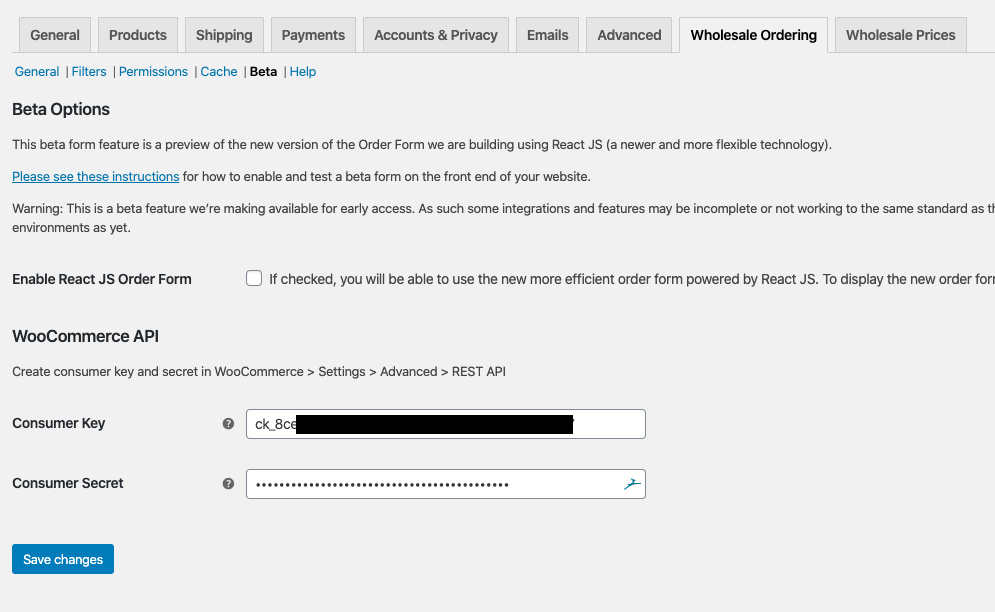 Copy the key and secret and goto WooCommerce->Settings->Wholesale Ordering tab, Beta in the submenu and paste them in.
2. Enable Beta Access
You now need to enable the beta form. This is as simple as checking the box on the same settings page that you just entered the keys in.

3. Tweak The Shortcode
So far we have create an API key, given them to the order form, and enabled the beta feature.
Now we're ready for the final step in order to show the new beta form instead of the old one.
This step will be removed in future, but for now we want to make sure this is completely "opt-in" and can't be accidentally enabled.
Goto the Page on your site where you have your wholesale ordering and edit the page. You should see a shortcode on that page like [wwof_product_listing].
To switch on the beta form you just need to tweak the shortcode with beta="true" like so: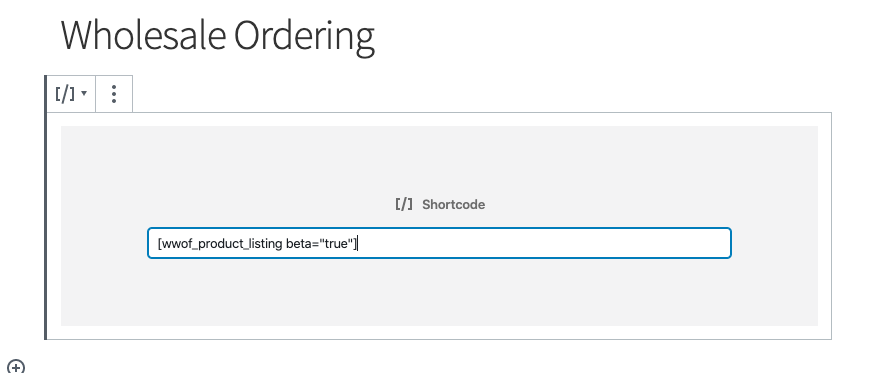 If you visit the page on the front end now, you should see the new beta Order Form.
Current Scope & Limitations
Things we've worked on already and are considered working:
Form layout and display – products can show including variable products.
Speed – it's lightning-fast and we're aiming to keep it that way.
All existing WooCommerce Wholesale Order Form settings are recognized and respected.
Things that still need attention:
Not fully integrated with ALL WooCommerce Wholesale Prices Premium features. The basics work though.
No third-party plugin integrations as yet.
Customization of the form look & feel can only be done via CSS overrides (which is what you need to do currently on the stable version anyway)
Found a bug in the beta form? Report it to us :)
As mentioned this is a beta feature so there's bound to be a couple of bugs (though we are testing thoroughly as we go!).
If you happen to find one, please send a message to support including the steps you have figured out to reproduce the issue.
It would also be helpful if we could get a copy of your WooCommerce Status report along with it.