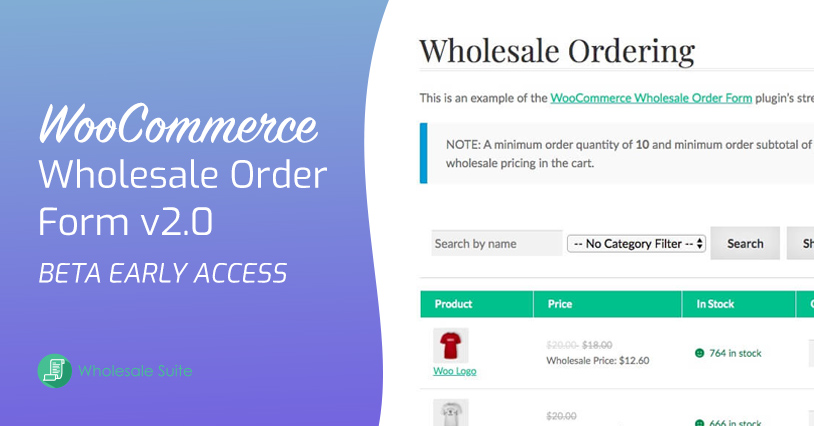 Attention Readers! This article is no longer up to date. For information on the latest version of Wholesale Order Form, please head to this article: Huge New Update! Wholesale Order Form Version 3.0 Now Live!
We're building a new WooCommerce Wholesale Order Form experience!
Earlier this year we kicked off a new project in Wholesale Suite to rebuild our beloved Order Form tool with some new tech that will:
Make it super-duper fast – always a good thing for your wholesale customers!
Make it more extensible so we can better integrate with some of the more difficult plugins out there – we understand that it would be great to integrate with many of these tools and this is the first step to get us there
Give you a more consistent look and feel – this will allow us to put more of that "look and feel" customization on the backend settings in the future
This article will show you how to get Beta Early Access to v2.0 of the WooCommerce Wholesale Order Form.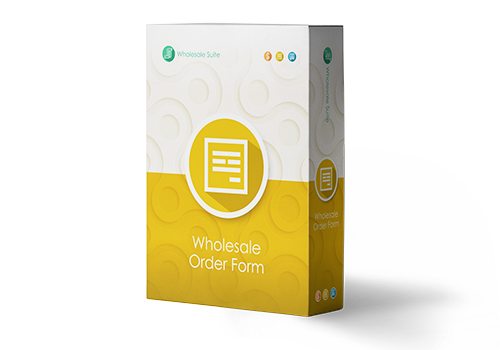 Don't have WooCommerce Wholesale Order Form yet?
You're missing out on delivering an amazing one-page ordering experience to your wholesale customers. Check the full features here.
Enabling The BETA Form
Currently, we are not recommending that you use this in a production environment.
But if your needs are simple and you want to check out what we're doing with the new form we'd love your feedback.
To enable the form you need to do a few things:
Generate a WooCommerce API key pair & load it in settings
Enable the beta access via settings
Tweak the shortcode you're using on your wholesale ordering page on your site
1. Generate WooCommerce API Key
The new form relies on the WooCommerce API. In order to use the API, the order form will need its own API access key.
You can generate one in a few seconds by doing this:
Navigate to the Advanced settings tab, then click on REST API in the sub menu. You should see a page like this (or if you've generated keys before you'll see a list of keys).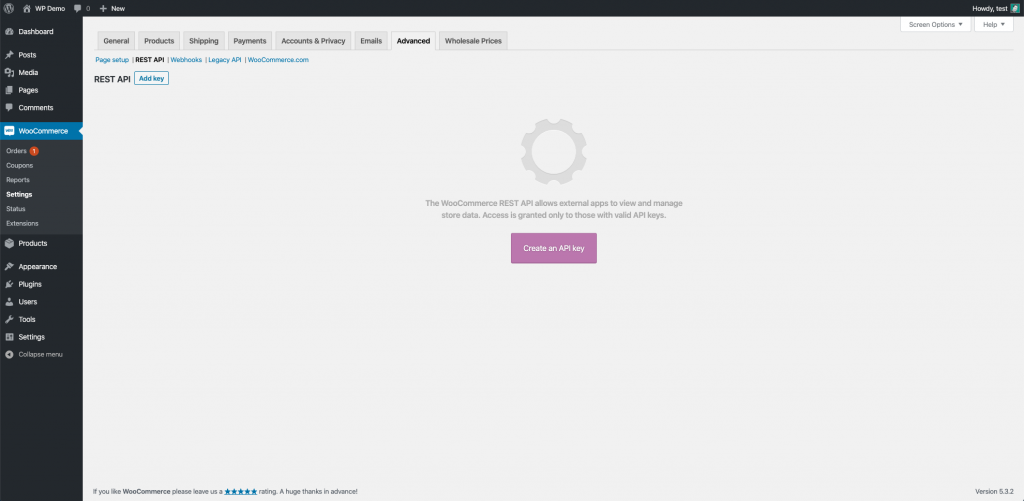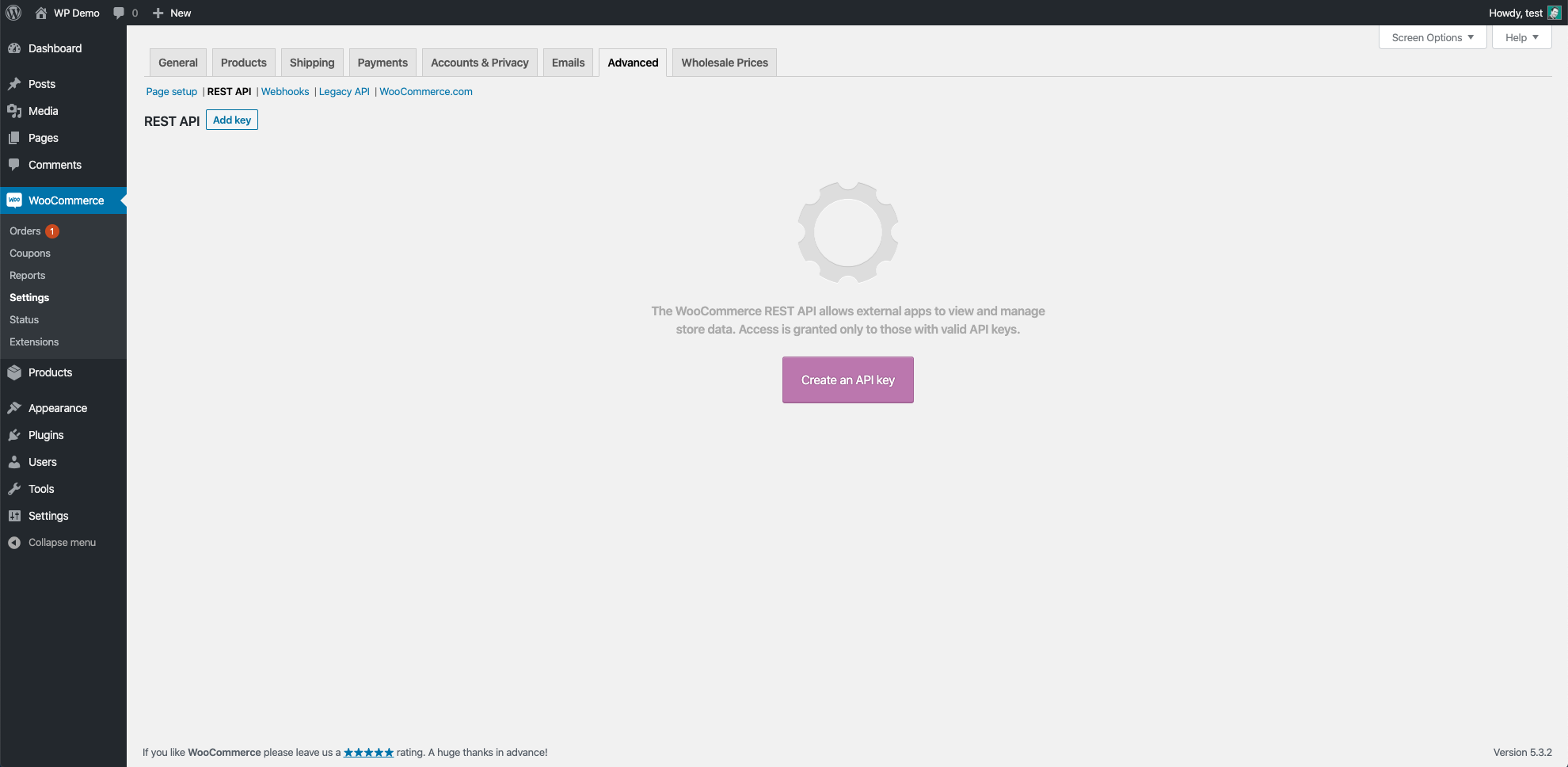 Next, click Create a new key button and you'll see a screen like this: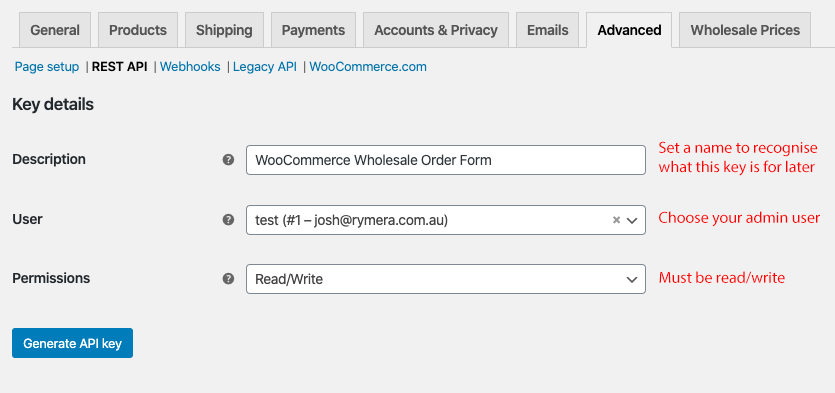 Give the key a recognizable name. Select your admin user for the user. Make sure the permissions are set to Read/Write.
Finally, you need to give WooCommerce Wholesale Order Form the keys so it can use them to access the API.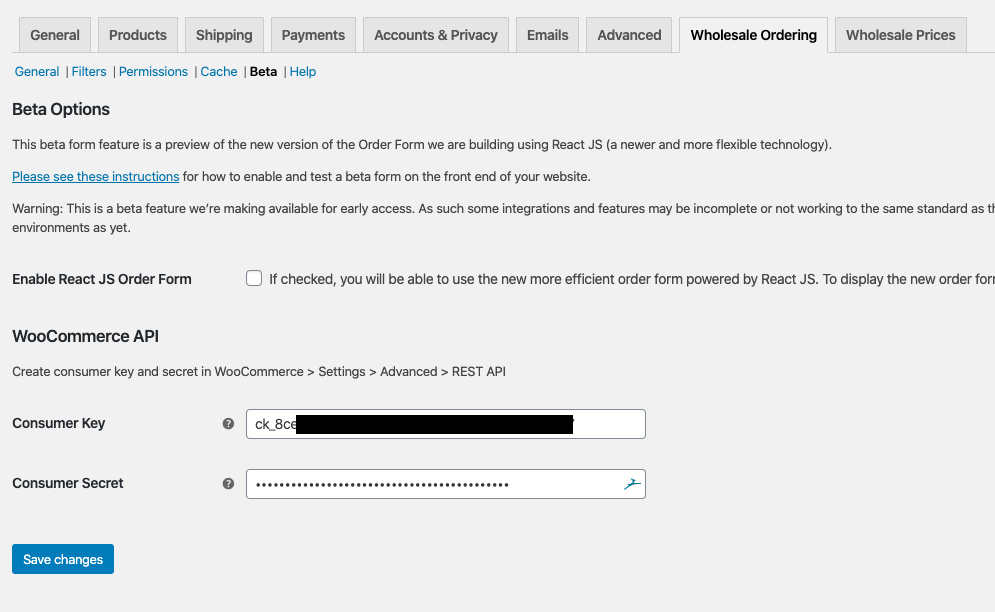 Copy the key and secret and goto WooCommerce->Settings->Wholesale Ordering tab, Beta in the submenu and paste them in.
2. Enable Beta Access
You now need to enable the beta form. This is as simple as checking the box on the same settings page that you just entered the keys in.

3. Create Your New Form
So far we have create an API key, given them to the order form plugin, and enabled the beta feature.
Now we're ready for the final step, to create a new order form.
In the order form v1.0, you could only have one form. In the new order form v2.0 you will be able to have multiple forms and each form has their own shortcode.
For now, you'll need to create that form manually, but in future we'll have an importer to automatically create your form Order Form in the system based on current settings (or if you haven't used Order Form before, based on best practices).
This manual step will be removed in future, but for now we want to make sure this is completely "opt-in" and can't be accidentally enabled.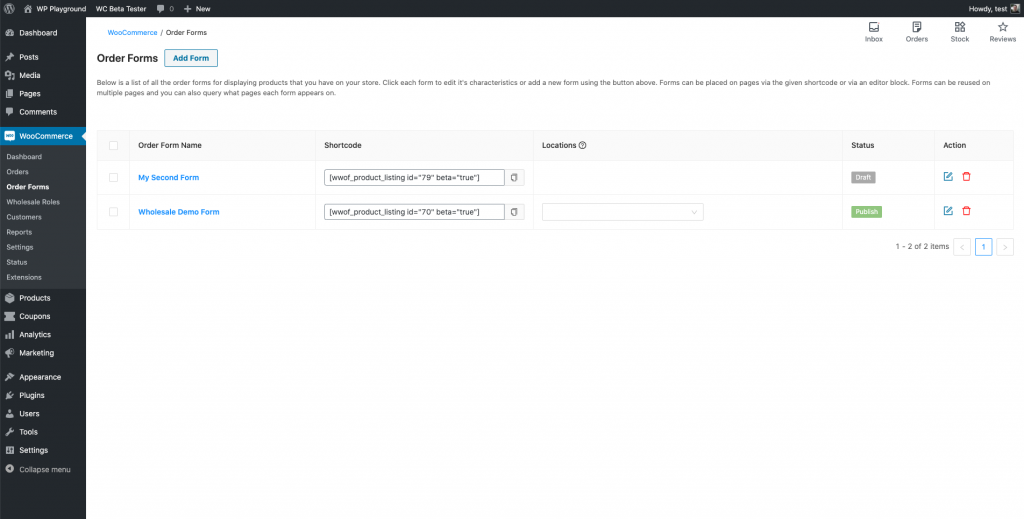 Once the beta is enabled, you can go to WooCommerce->Order Forms. Click Add New to create a new form.
The new interface is drag and drop. There are three sections to the form:
Form Header
Order Form Table
Form Footer
For the header and footer, you can add rows and columns, then drag elements into those sections.
For the table, you can drag table column elements from the right over to the table and arrange the rows how you like.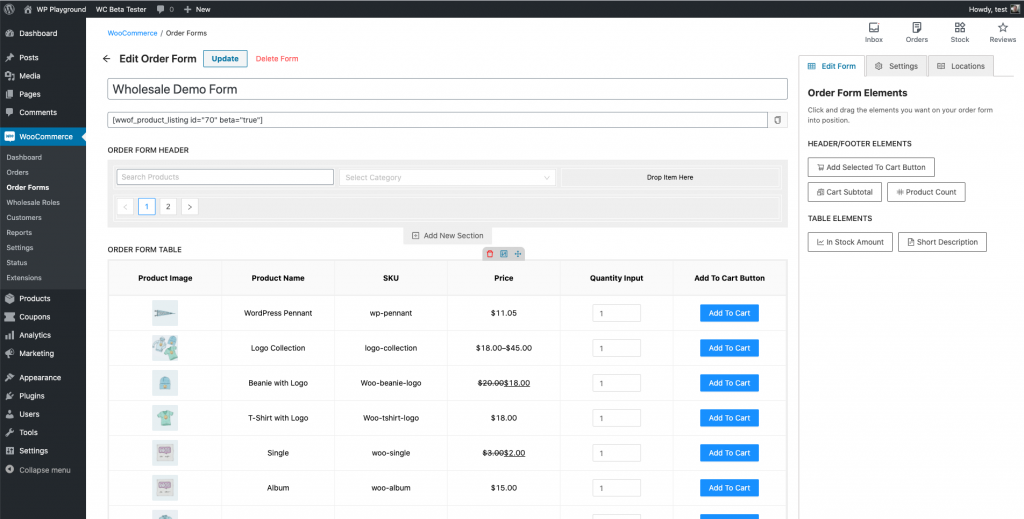 If you click on the settings button of an element as you wave over it, you will be able to see configuration and styling options.
Once you're happy with the configuration of your form, make sure you publish it (top of the screen). This will generate the order form's shortcode.
Use the shortcode and place it on a page to see your order form on the front end of your site.
If you run into any issues while settings up your new Order Form in the v2.0 beta please reach out to support and we'll happily step you through it.
Current Scope & Limitations
Things we've worked on already and are considered working:
Form layout and display – products can show including variable products.
Speed – it's lightning-fast and we're aiming to keep it that way.
Multiple order forms – you can have more than one form in the system now
Each form has a shortcode that can be placed anywhere to show a custom order form
Element level configuration & styling – we're working on improving this but you can alter the behavior of individual elements on your form
Things that still need attention:
It's mostly integrated with WooCommerce Wholesale Prices Premium, but there are still some smaller features we're yet to tackle.
No third-party plugin integrations as yet but we're working on it.
Improvements to element level styling
Improvements to settings placement for elements
Latest Updates
Found a bug in the v2.0 beta form? Report it to us :)
As mentioned this is a beta feature so there's bound to be a couple of bugs (though we are testing thoroughly as we go!).
If you happen to find one, please send a message to support including the steps you have figured out to reproduce the issue.
It would also be helpful if we could get a copy of your WooCommerce Status report along with it.
Need help configuring your v2.0 beta order form? Contact us :)
We're more than happy to assist anymore in trying our new order form and are very grateful for any feedback you have for us.
If you need assistance in configuring your order form please don't hesitate to reach out to our support team.