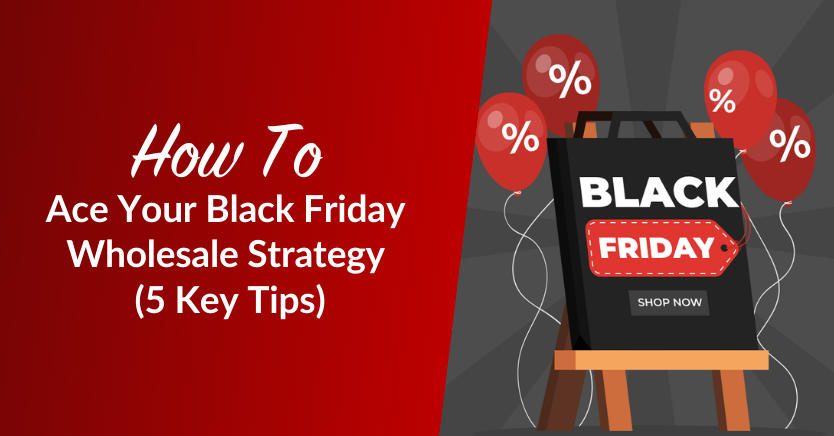 Black Friday presents a golden opportunity for boosting your sales and increasing brand awareness. However, if you're underprepared for this shopping extravaganza, you may potentially miss out on a significant number of conversions and new wholesale customers. This is why it's important that you have a Black Friday wholesale strategy in place.
By making some preparations well in advance, you can ensure that things will run smoothly (and successfully) on the actual day. In this post, we'll share some strategies to help you prepare your wholesale businesses and customers for this popular sale day.
So, let's get started!
5 Tips To Ace Your Black Friday Wholesale Strategy
Crafting a successful Black Friday wholesale strategy requires careful planning and execution. In the following section, we'll outline five essential tips to help you maximize your sales and customer engagement on this high-stakes shopping day.
1. Create a master plan
Being prepared is key to your success. However, before you map out a plan of action, you may want to set your Black Friday targets and goals. For example, you could think about the products that you want to promote or the number of sales you want to make on the day.
As part of your Black Friday wholesale strategy, you'll also need an organized, easy-to-understand calendar in place. This will make launching and tracking your campaigns easier. This 2023, these are the most important dates to keep in mind:
Black Friday – November 24, 2023
Small Business Saturday – November 25, 2023
Cyber Monday – November 27, 2023
Additionally, keep in mind that most businesses typically start promoting Black Friday early. Leveraging the weeks leading up to the event to get the word out can help you stay ahead of the game.
Once you've defined your goals and created your calendar, you can start devising a master plan to reach those targets. For instance, you can design ads and promotions, and schedule some engaging social media posts:
Remember that your customers will likely be bombarded with offers and deals from other companies. Therefore, you'll want to make sure that your brand stands out from the crowd.
We recommend that you create a schedule for the preparatory tasks that you need to complete by Black Friday week. This will help you stay organized while ensuring that you won't miss an important step.
2. Get in touch with your wholesale customers
It's also important to prepare your wholesale customers for the big day. Since most of your loyal clients will be looking forward to your offers, you'll want to ensure that they won't be disappointed.
Therefore, it's a good idea to get in touch with them and advise them to get their orders in early to beat the rush. We recommend that you do this at least six to eight weeks before Black Friday. One of the best ways to do this is by leveraging email marketing.
This will give your wholesale customers plenty of time to put in those bulk orders. It will also help you determine whether you'll need to stock up on particular items. This way, you can avoid running out of products a few days before the sale day.
3. Build targeted wholesale campaigns
Shopping holidays can help you create awareness about particular products and get rid of old stock. For example, you may want to generate some interest in a product that you've recently added to your inventory. Alternatively, you may want to promote a poor-performing brand.
Additionally, you could consult with your wholesale customers and ask them if there are any products that they think would go down well with their Black Friday shoppers. You can then create special product displays for them, or give them images and graphics for their social media posts:
You'll also want to think about the type of offers that you want to promote. For instance, you can provide your wholesale customers with coupons or cards that they will give to their clients on Black Friday. Shoppers can then redeem these coupons for cashbacks or free gifts from your store.
This strategy helps you get the details of those customers directly. It also helps you determine which wholesale customers promoted you the most during Black Friday.
4. Send reminders to your customers
Once you're all set up for Black Friday, you may want to send automated emails to your customers, reminding them to promote your products. However, you'll want to make sure that you do not come across as pushy.
Therefore, try to limit the number of reminders to two per week. You may also want to email retailers a few days before Black Friday to make sure that they have all the information they need to promote your offers to their customers.
5. Make sure you have an efficient ordering system in place
Black Friday is possibly the busiest time of year for most of your wholesale customers. This means that they will want their bulk orders to be processed efficiently and without any issues or delays.
Therefore, it's important to ensure that you have a powerful ordering system in place. Wholesale Order Form enables you to create a simple and efficient ordering system for your wholesale clients:
It also gives you the option to display your whole catalog on one page, making it easy for users to find what they're looking for and add items to their carts. Moreover, the order form is fully responsive and mobile-friendly, enabling your customers to place their orders on the go.
Conclusion
Having a Black Friday wholesale strategy in place can help you make the most of this shopping extravaganza. You can generate interest in a new product, boost your profits, and increase your brand awareness.
In this post, we shared five simple strategies to help you feel more prepared for this popular sale day:
Wholesale Suite can help you gear up for the Black Friday shopping frenzy. Our powerful suite of plugins allows you to manage wholesale pricing and discounts seamlessly, create user-friendly ordering forms, and manage wholesale leads.
Do you have any questions about setting up a Black Friday wholesale strategy? Let us know in the comments section below!