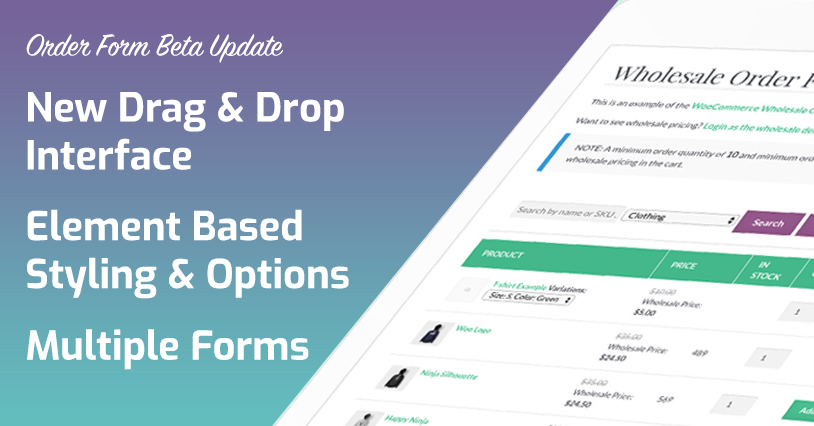 Attention Readers! This article is no longer up to date. For information on the latest version of Wholesale Order Form, please head to this article: Huge New Update! Wholesale Order Form Version 3.0 Now Live!
Hey store owners!
We're really happy to announce version 2 of WooCommerce Wholesale Order Form!
After releasing version 1.16, we worked tirelessly for almost a year to totally redesign the plugin from scratch and test it with our beta users. This was done to provide a better order form solution that will result in high-quality results and enable our esteemed store owners to grow their businesses even more.
What's New In 1.16?
We've really made some great strides with the latest version of Wholesale Order Form. Here's some of the cool stuff we've been working on:
1. Multiple forms
Previously, when you installed Order Form, there was just one form. That was it.
In version 2, we're shooting for being able to create multiple Order Forms in many different configurations.
You'll also be able to add forms anywhere, including multiple forms on one page if you really want.
2. Drag and drop configurable forms
And since we're now able to have multiple forms, we decided to build a form builder in which you can drag and drop elements around into place in the header, table, and footer sections.
It's a better way to be able to alter the configuration of order forms, create new order forms easily, and tweak the settings of parts of your order form in a more intuitive way.
It's a preview of what kind of fun things are coming with our other plugins too (we're looking at you Lead Capture 👀 )
3. Product sorting
Previously, a default option controlled how the Wholesale Order Form was sorted. Now that we have a drag-and-drop builder, you can arrange the products on the order form in different ways.
Coming Soon
There's still a little way to go on the journey of the WooCommerce Wholesale Order Form, but we're really excited to release these new features to you today.
In the meantime, here are just a few of the amazing features we have planned to get up soon:
Additional integrations! – the new order form was thoughtfully constructed in order to make it easier than ever to add to our collection of connected plugins.
More column types! – we want to add a lot of other column kinds, including product categories, product tags, review scores, and others.
Extra filtering options! – new filtering features that we have previously planned will be made available in the upcoming months, so stay tuned!
Compatibility With WooCommerce Wholesale Prices & Prices Premium
This latest version 2 release introduces better compatibility with WooCommerce Wholesale Prices & Prices Premium.
You will need to ensure you have also updated your WooCommerce Wholesale Prices Premium to its latest version to take advantage of the compatibility between those plugins.