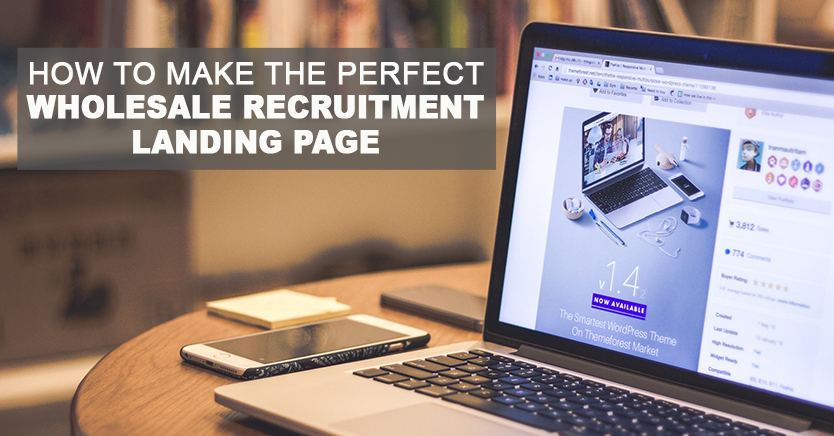 When you're working on building your wholesale program, recruiting new wholesale customers quickly becomes your #1 problem.
It's hard enough to find retail customers, how the heck do you attract quality wholesale customers that are going to buy your goods in large quantities and resale them the way you want them to?
Enter the wholesale recruitment landing page.
It's more than just a wholesale registration page, it's about providing a resource that will:
Identify the right wholesale customers and actively eliminate those who aren't a good fit
Tell them why they should join your wholesale program
Tell them what to expect next
And that's the rough formula, but in this post, I'm going to go deeper into what I think makes for a quality wholesale customer recruitment landing page.
Identify The Right People
You probably have a pretty good idea about who your target market is on the retail side.
But have you thought about who your target market is for your wholesale program?
I probably don't need to sell you on why you need to have a target market in mind, but just as a refresher, having a crystal clear vision about who your target market is will help you identify the right people and actively eliminate those who aren't a good fit.
Your landing page should explain exactly who is a good fit for your wholesale program.

Don't be afraid to get specific with the details, describe their attributes and this will help people self identify. Eg. "Our wholesale program caters to retail stores that sell complementary products such as X, Y, and Z doing over $10m turnover per year."
Doing this will also help people self eliminate, so you get fewer applications from people you don't want in your program.
Outline The Benefits Of Your Wholesale Program
Whenever you create a landing page, one of the golden rules is to always talk to the benefits of whatever it is you're selling first.
Disregarding design for a moment, I find it helps to imagine a shortlist, of maximum 5 bullet points, headed up with the title "Benefits of joining". This will put you in the right frame of mind to list out the benefits.
Examples could be:
Preferential wholesale volume pricing
Exclusive first-view access to new product lines (released approximately every quarter)
Access to quarterly reseller training webinars
Welcome pack including 1x promotion stand, 500 product information booklets, and 250 counter magnets
Quarterly check-in phone call
Once you have your list, you can design this into a nice presentation which really goes in-depth on each point and hows off how you treat your wholesale customers like royalty.
Highlight Existing Customers With Case Studies
Once you have taken them through the high-level benefits of working with you, they're in a good position to be wowed by some overwhelming social proof.
Nothing does this better than case studies. Or as I like to call them "success stories".
Highlighting the success of an existing customer (or customers, you can include up to 3 easily here) show them:
They're not alone and not the first one to apply
The existing wholesale customers are happy to do business with you
They too could have that same success
Don't have any case studies yet? That's ok, just leave this section out for now and make it your mission to work hard with your initial wholesale customers to get some amazing results and come back to add them as case studies later.
The Specifics & The Process
Now you need to tell them about what to expect next. They need to know how the process goes for becoming a wholesale customer.
You can get specific with a timeline here if you like, give them timeframes, individual steps, what they need to provide or have ready to provide to you, whether they need to conduct an interview call with you, etc.
You should also lay out the specific terms and conditions, give them your information sheet as a downloadable/printable so they can read it later. Make your terms very clear.
Note what they need to do to remain a wholesale customer, what their responsibilities are, minimum order requirements, etc.
Ask For Registration
By now your prospect should have all the information they need to at least submit a registration form, so now is the time to "ask them for the sale" as they say in sales speak.
Our WooCommerce Wholesale Lead Capture plugin is designed to make this job very easy and it features a full approvals process as well.
Simply put the shortcode for the lead capture plugin on the page and it will take care of the rest. You can just sit back and review submissions as they come in.
Provide An FAQ
I think this step is essential for increasing the conversion rate of your registration form.
It's hardly possible to answer every little tiny question a prospect might have via the landing page copy. Sure you might hit on all the big points, but for something as important as a wholesale customer application which potentially the start of a long and prosperous business relationship they might have some follow up questions before submitting.
An FAQ is ideal at this point in the landing page to answer those little questions that you weren't able to address head-on in the landing page copy.
Ensure that you start with a good half a dozen to a dozen questions in the list and plan to add to it over time.
I recommend also providing a dedicated contact person or a contact form for the inevitable "other" questions that people will need to ask. Once you've answered them, you can add them to the official FAQ list.
Key Takeaways
A wholesale customer recruitment landing page is an essential part of your wholesale program strategy for your store.
Remember that this is the page you are going to drive traffic to, so the better it is, the more likely that traffic will convert into leads for your wholesale program.
Put the time into developing this as a tool for recruiting wholesale customers and you will reap the rewards.