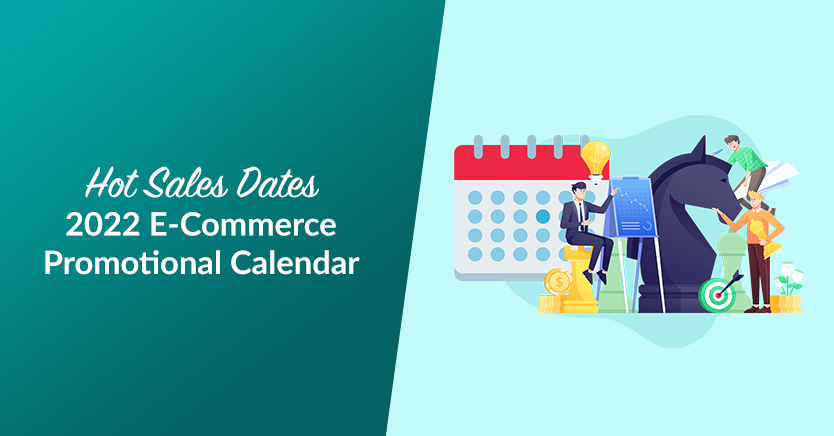 The past two years have been rough, but it's a new year! This calls for a new beginning, and as store owners, this means most of us are already underway with our promotional planning for 2022. This 2022 Promotional Calendar gives you a quick summary of critical sales dates and holidays that you can take note of to help you kickstart the year strong!
Identify which sales dates align with your branding and promotional needs so you can get a jump start on them and be more effective in your seasonal marketing. Below the calendar, we have included a checklist to help you prepare.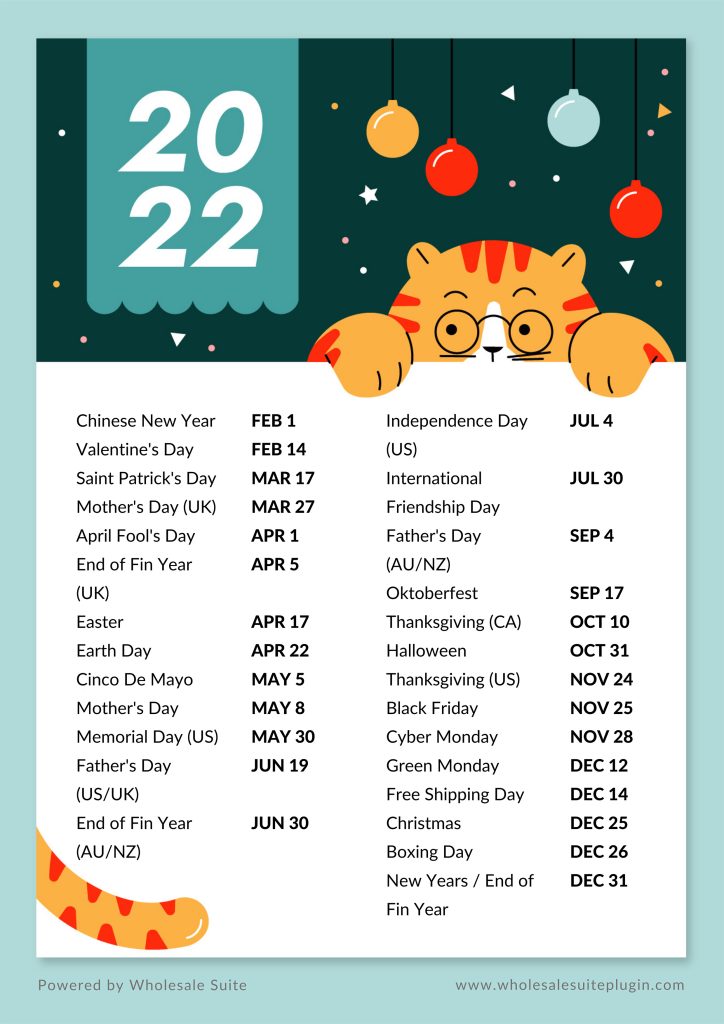 Copy + Paste the following code in the Text tab of your WordPress post to embed this infographic.
4-Point Seasonal Promotion Preparation Checklist
To help you get started, first ask yourself the following questions:
1. Which is the holiday you will target?
One of the best ways to help you gear up for the coming months is to plan your targeted holidays and seasons. To help you navigate your dates, use the calendar above to identify the next logical holiday for you to keep an eye on. Then, make sure that there is plenty of time to put your campaign together without having to rush things. Remember, you don't have to hit every date on the calendar, just the key sales dates that are important to you and your business.
2. What are your goals for the promotion?
Now that you've identified your next promotion date, what are the goals you would like to achieve? Are you building your email list? Do you want to drive your sales and optimize your revenue? Are you expanding your social network? Decide on what is essential to your goals this year and the outcomes you hope to achieve. You will be able to work backward from that.
3. How will you promote?
There are a million and one ways to run a promotion; all you need to decide on is how you'll be doing it. Is it by giving out coupon codes in exchange for emails? Is it through a viral campaign to spread your brand? What is your call to action? Determine what marketing and promotional strategy suit your business framework best.
4. What design or material will influence your promotion the most?
Use seasonality to influence the design and copy of your promotion. For example, if you're targeting Chinese New Year, you'll have plenty of inspiring imagery to draw on. You should focus your copy on concepts such as bringing good luck and fortune, and, finally, a red colour motif will complete the look. Think about the promotion at hand and how you can tailor everything to this for maximum impact. Clearly, only you can tell!
Other Seasonal Promotional Campaigns To Consider
Our calendar focuses on some of the major promotional dates around the world, but there are also more local periods that you should consider for your promotions. Being able to draw customers from around the globe is one thing, but being a neighborhood favorite is another!
Think outside the box and you'll be surprised at what you can come up with.
Back To School
Back to school sales period varies around the world, but it's a great time to pick up motivated parents looking to score a bargain at a financially tough time of year. People are on the lookout, and it's pretty straightforward to put together a campaign that will resonate with buyers.
More than the parents, back to school season is also the perfect opportunity for you to win the youth. It's the time when most students, from primary to tertiary, are excited to hoard new products with a great deal to keep them on the ground at school.
Holiday Sales
Each year, the big ones are usually the end of the financial year (great for motivating wholesale customers to buy bulk lots), Black Friday through to Cyber Monday and, of course, Christmas!
But there are other more minor holiday sales you can run too in your local area or niche. So again, while the dates vary locally, there will always be a window of opening for you to maximize your promotional schemes.
For example, Australia Day is a huge celebration in Australia, and many outlets prepare weeks in advance to capture interest. The U.K., on the other hand, has National British Day every 12th of June. During these days, retailers likely throw in exceptional offers and sales as the weekends give customers more time to shop and gift-give.
Another example is school holiday breaks where parents look for things to amuse their kids, holiday deals, camping equipment, etc. The list is endless.
Do you have a national day you could target, too? Or perhaps, just a date in our promotional calendar you can tick off because of your local festivities?
Clearance/Stocktake Sales
Stocktake sales, sometimes called clearance sales, are all about moving stock at certain peak times of the year when businesses are ramping up to do their reporting.
The idea is the less stock there is to count, the easier the job is. Hence, the stocktake sale runs just before they do a stocktake. This is also an excellent opportunity for you to boost your sales!
2022 E-Commerce Promotional Calendar PDF Download
Need this seasonal promotion date calendar in a PDF format to hand around to your team? Want to print it out and stick it on your wall? We have you covered.
 Click here to download the 2022 E-Commerce Promotion Calendar in PDF Format