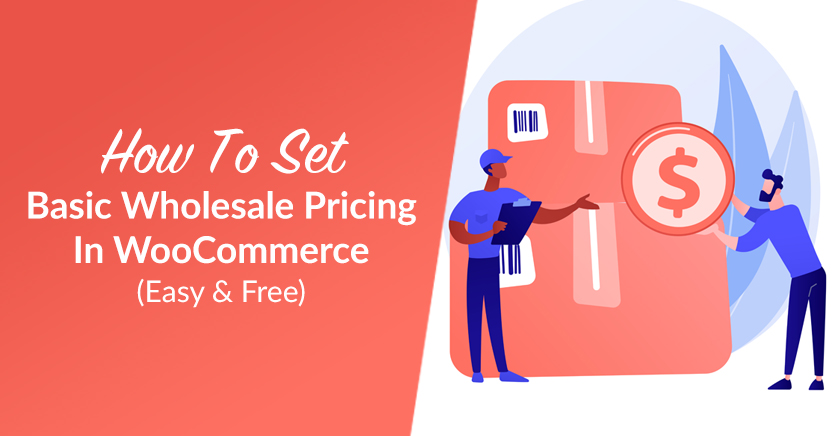 If you're a wholesaler with an online store, then you already know how crucial setting wholesale pricing in WooCommerce is. After all, wholesale pricing can attract resellers and incentivize them to purchase products in bulk, leading to an increase in overall sales volume. It can even allow for stronger relationships with customers by offering discounted prices for loyal clients and bulk purchases.
Well, we've got some great news for you. Our WooCommerce Wholesale Prices extension allows you to easily set wholesale pricing in WooCommerce – no headache-inducing coding or monkeying around with your website required. Oh, and did we mention that this extension is absolutely free?
Already familiar with our Wholesale Suite tools? Then you may have already checked out our previous guide on how to calculate wholesale price from retail price, which should prepare you for the next logical step: setting wholesale pricing in WooCommerce.
Today, we'll discuss how you can use WooCommerce Wholesale Prices to set wholesale pricing in your online store. So let's get started!
How To Download, Install, And Activate Our Free WooCommerce Wholesale Prices Plugin
To set wholesale pricing in WooCommerrce, you must first download our free WooCommerce Wholesale Prices tool. This plugin will add this functionality to your WooCommerce store.
To install the plugin via the WordPress dashboard, log into WordPress, then observe the following steps:
Step 1: Navigate to the plugin directory
In your WordPress dashboard, navigate to Plugins > Add New. This will give you a list of plugins you can install on your online store.
Step 2: Install and activate the WooCommerce Wholesale Prices plugin
In the search box, type "Wholesale Suite WooCommerce Wholesale Prices," then hit the Enter key on your keyboard.
This will result in the page presenting the Wholesale Suite tools to you.
Next to the Wholesale Suite logo and name is an Install Now button. Click this to install the plugin on your store.
Finally, click Activate when prompted.
The free plugin WooCommerce Wholesale Prices is now ready for use!
How To Set Wholesale Pricing In WooCommerce
Now that you've activated WooCommerce Wholesale Prices, you can use it to add wholesale pricing to your products on your WooCommerce store.
You can accomplish this in two easy steps:
Step 1: Navigate to a product
In your WordPress dashboard, head to Products. You can either edit one of your existing products by clicking on its name on the right, or you can create a new product by clicking Add New.
At any rate, you'll be taken to the product edit screen.
Step 2: Edit the product's pricing details
As you can see, the product edit screen now features new input boxes for wholesale prices.
Now, in addition to the regular price and sale price, you can give your product a wholesale price and wholesale sale price. You can even choose between a fixed discount and a percentage discount for your product.
Enter the wholesale price you would like for your product. Remember, only your wholesale customers can see this wholesale pricing in WooCommerce. In contrast, your regular retail buyers are only privy to your regular pricing.
If you'd like a more extensive look at all of WooCommerce Wholesale Prices' features, check out the following guides:
How To See What Wholesale Pricing In WooCommerce Looks Like For Customers
To check out what your wholesale customers will see when they're browsing your product catalog, you'll need to access your website as a customer.
We recommend setting up a test user account for yourself. This will allow you to log into your own store as a wholesale customer.
Step 1: Create a test user
To create a test user, go to Users > Add New. Then, fill in the text fields to create a new user.
Step 2: Choose a user role
Now, you'll have to pick a role for your test user.
Scroll down the page, click the Role dropdown menu, then select "Wholesale Customer." This means that whenever you log into your website as this test user, you'll see the products' wholesale prices like a wholesale customer would.
Take note: you need to apply this same "Wholesale Customer" user role to all customers whom you'd like to have access to your products' wholesale rates.
Don't forget to click the Add New User button when you're done creating your test user!
How To Get More Wholesale Features
As far as showing specific customers simple wholesale pricing in WooCommerce, the above steps are all you need.
However, if you want more advanced functionalities, like adding multiple tiers of wholesale pricing or using percentages to define pricing instead of editing each product, then our Wholesale Prices Premium plugin might be for you.
The free plugin provides the basic features including the ones discussed in this article.
But what if you want more advanced control? And what if you'd like to start developing a more sophisticated wholesale portal for your customers? Then upgrade the free plugin to Wholesale Prices Premium – your online wholesale business will benefit from it!
Conclusion
To attach wholesale prices to your products for the benefit of your wholesale customers, you need to use our free WooCommerce Wholesale Prices tool. This is a powerful WooCommernce expansion that streamlines online wholesale business processes, including the setting of wholesale pricing in WooCommerce.
To recap, to set wholesale pricing in WooCommerce, you need to observe the following steps:
Do you have any questions about setting wholesale pricing in WooCommerce? Please don't hesitate to reach out to us in the comments section below!