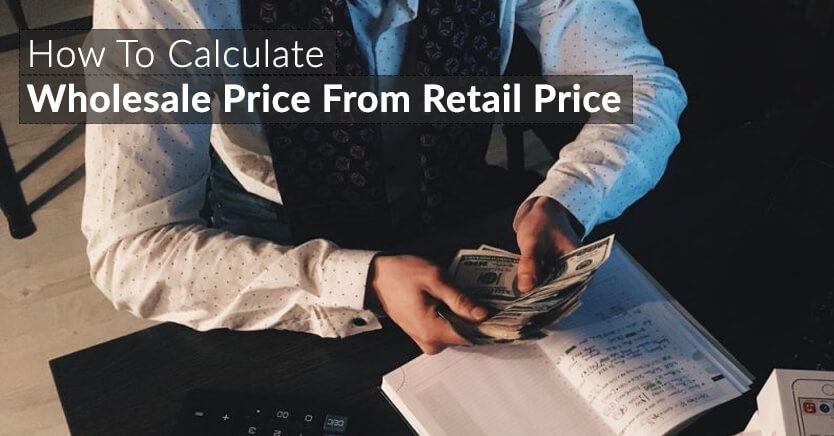 There are big differences you need to know about wholesale price vs retail price but first, let me first start with a disclaimer: Discussions on pricing are always subjective.
Keep in mind that pricing strategy is highly dependent on your business and your current and future situation.
You do obviously need to price your goods in order to sell them, so the problem is how to calculate wholesale price from retail price in a way that will leave enough profit on the table in both scenarios.
It may well be part-art, but there is certainly some rational thinking involved in it. There are tips you can take away from this article that will help you price your products for wholesale (and retail) properly. At the end of the day, I hope this will help you build your business into something that will be sustainable.
How To Calculate Wholesale Price From Retail Price
If you've been in business for a while, chances are you already have a retail price for products and are working the equation backwards as you explore wholesale selling.
So knowing how to calculate the wholesale price from retail price is very important because you probably just can't up and change your retail pricing model because you've decided to introduce wholesale distribution.
Most pricing experts would see this situation a bit backwards because the ideal strategy is to follow a formula, something like this:
Materials Cost + (Labour Invested x How Much You Value Time) + Other Overheads (Rent, Fixed Costs, Electricity, etc) + Profit Margin = Wholesale Price
While using that formula is ideal, it doesn't always happen that way and most people end up doing something like this:
Retail Price x 0.6 = Wholesale Price (40% off retail)
Which Wholesale Pricing Strategy Should I Use
Both wholesale pricing strategies mentioned above have their merits. But I think both have some downsides when it comes to determining your final wholesale price.
As I mentioned in the introduction, pricing is subjective. You may have thought I was referring to your subjectiveness but I'm actually referring to the customer's viewpoint.
When determining a price for a product for sale, whether it be for retail or wholesale, I like to use what is called the "Value-Based Pricing" method instead.
Value-Based Pricing
If you were to follow the experts and use the above formula to factor in all your costs, then mark up that price by XX% to arrive at your final selling price. That method is called Cost-Based Pricing.
There's nothing wrong with this, but it can cause you to leave too much money on the table and it often results in a race to the bottom with your competitors. The first part of your business to suffer will be your wholesale business.
Cost-Based pricing fails to account for one criterion which I personally think is incredibly important.
What does the market perceive your products to be worth?
Value Based Pricing is based on conducting research and finding out what the market will bear. This combined with your insight of where you want to be in that market.
This pricing strategy involves a few steps:
Analysing where you believe your product fits in the market
I advocate positioning your product somewhere in the top third of the market unless it's oversaturated with others all trying to do the same. It allows for bigger margins.
1. Talk to your customers
Get your product into the hands of real people. Focus hard on finding out what you can do to improve the appearance of quality around your product. Quality = Higher price and therefore better margins.
2. Ensure that the final price you arrive at for retail is more than 2x your cost of production
You can work backwards using the Cost Based formula for this. Preferably at least 4-6x cost of production. If it's lower than that, you need to re-evaluate where you sit in the market and try to trim your costs.
3. If your margins are too thin, it means your business won't be viable
When it comes to wholesale customers, they expect deep discounts so they can make their money too. It's important to give them a good deal and make it a win for your wholesale customers. But at the end of the day, you're in business to make money. You have to have the margins built into your prices, even at your wholesale price point.
4. Determine your wholesale price vs retail price
At a 4-6x cost of production, your retail price has plenty of room built in to support a wholesale business. So I would recommend a 40% off retail price point which gives you up to 30% off retail for you and your wholesale customers to play with for promotions. If you're considering having multiple levels of wholesale, don't go deeper than 50% off retail. Also, ensure you have minimum order quantities in place.
Other Considerations
Now that you have determined your wholesale price vs retail price points there's one other consideration I want to mention.
While it's not legal to restrict the price your wholesale customers sell your product at, you can legally (in most countries at least) have them sign an agreement that restricts the minimum price they can advertise your product for.
Take a look at promotions at retail locations nearby to you. You'll often find marketing saying things like "Too hot to advertise, call for pricing!". When you see this kind of promotion, it's likely that there were restrictions on their wholesale contract from advertising too low.
One of the most prominent companies that employ this strategy is Apple. You will never see an Apple product advertised at a steep discount compared to other retailers.
A minimum advertised price will help put a stop to your wholesale customers competing too viciously with each other. It will also ensure that re-orders don't dry up.
Wholesale Price vs Retail Price
I hope this article has helped you with your wholesale price vs retail price dilemma. Even if you only take away a couple of points from it and apply it to your business. I think you will be better off.
As you can see there are many different approaches to determining wholesale pricing and retail pricing. The important thing to remember is there is no "wrong" way.
How you calculate wholesale price from retail price is completely dependent on you, your market, your positioning, your business, your future plans and much more.